3D Printing
Metal and ceramic 3D printing processes are becoming increasingly popular, while these processes are most commonly used to produce polymer objects. Since 2015, Huisman has devoted R&D efforts to investigate benefits of Wire & Arc Additive Manufacturing (WAAM), a specific subtype of metal 3D printing which is highly similar to conventional welding. Amongst other components, crane hooks are of particular interest because of the increased control over the production process.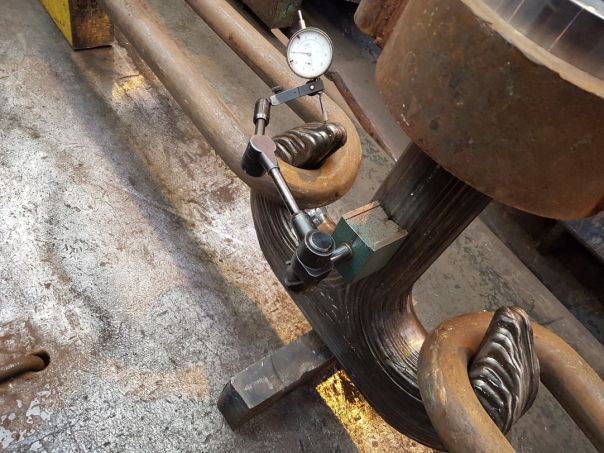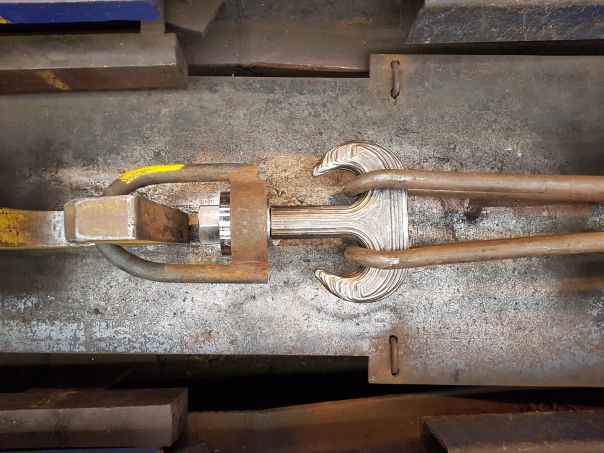 Description
WAAM
Wire & Arc Additive Manufacturing (WAAM) involves the use of robotised welding equipment to produce free-form shapes from superimposed metal weld beads. A robotised weld torch is used to shape a component from a metal substrate (e.g. plate). The weld metal, sometimes combined with its substrate, forms a component that may be further processed. Due to the absence of a sealed chamber, the size of WAAM-produced components is limited only by the reach of the robotised weld torch. Production rates of up to 8 kg/hr have been achieved in experimental setups by Huisman.
3D Printed Ramshorn Hook
A 3D Printed Ramshorn Hook was one of the first R&D tryouts to WAAM produce a component / shape that is highly familiar to Huisman. This hook was inspected according to Huisman QC standards for forged and cast hooks. No defects were detected during magnetic and ultrasonic NDT examinations, before and after its load test. The load test itself was conducted according to standards of LR, DNV and ABS for DIN-shaped Ramshorn Hooks that have an SWL of 40mt (test load: 80mt). To demonstrate what a finished product could look like, one hook prong was grinded smooth.
Future
Whereas the 3D printed hook the is primarily a demonstration of WAAM technology using a familiar shape, the interest goes out to larger hooks that are currently forged or cast. Using WAAM, improved control over material quality and the ability to produce non-stop can reduce cost and delivery time significantly. A number of follow-up projects have therefore been initiated, one of them involving a 4-prong hook with its prongs designed to be hollow. This project will provide insight into potential benefits of producing hollow sections, saving weight and minimizing WAAM production time. DNV-GL, Bureau Veritas and ABS have been involved in an early stage of the project, paving the way towards broader acceptance of WAAM technology as a competitive production method. The distance between the prong tips of this hook will be approximately 1 meter and the hook will be certified. This project is a collaboration between RAMLAB and Huisman.
Read more: Press Release Worlds largest 3D printed crane hook
Read more: Press Release Huisman successfully loadtests worlds first 3d printed offshore crane hook
Features
High control over process and material quality
Layer-by-layer manufacturing, enabling a new range of component shapes
Cost and/or lead time reduction for critical components
Tailor-made material properties within same product: strength, ductility, wear/corrosion-resistance, etc.
Huisman welding expertise directly applied
Downloads
No downloads available
Contact us