Vessel Designs
Over the years, Huisman's Naval Architectural Department has developed concept and basic designs on client request for vessels which are currently in operation.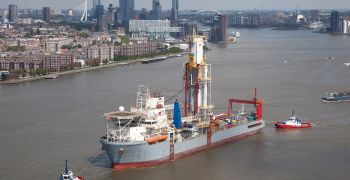 HuisDrill 10000
The HuisDrill 10000 is a dynamically positioned drill ship suitable for 12,000ft water depth. The vessel is suitable for worldwide unrestricted service. The vessel's main task is exploration and development drilling in the waters offshore Brazil, Africa or the Gulf of Mexico. Huisman developed the concept design.
Read more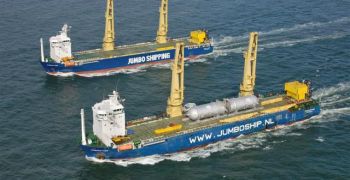 Jumbo Shipping J1800 Class Vessels
From the year 2004 onwards Huisman has delivered several 900mt mast cranes for the J1800 Class vessels of Jumbo Shipping. Besides the delivery of the 900mt heavy lift mast cranes Huisman was also responsible for the integration of the cranes. The drawworks of the cranes were integrated in the ship structure as low as possible to optimise the layout and to improve the stability of the vessel.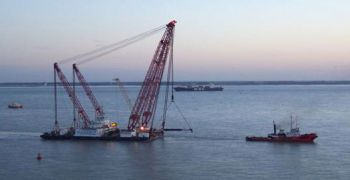 3,300mt Heavy Lift Schip
In 1995 Huisman designed a sheerleg catamaran for a bridge construction project in shallow water. The sheerleg was built from three existing pontoons. The design work included the full vessel design package approved by Lloyd's; extensive model testing and hydro-mechanical calculations subcontracted by Huisman to MARIN; and the global and local structural calculations. Huisman performed the inspection and repairs of the existing pontoons including new reinforcements, modifications, the construction and assembly of the catamaran. The cranes were designed, built, and delivered by Huisman.
In 1999, when the bridge construction project was finished, a major conversion of the Rambiz was performed by Huisman. The modifications included a reduction of the vessels width by shortening the cross-beam and an increase of the length of the vessel. All design work was done by Huisman. The manufacturing was subcontracted to Damen Shipyard.
Sapura 3000
The conceptual layout of the vessel was performed by Huisman. The basic design was subsequently performed by Ulstein Sea of Solutions.
Huisman took active part in the hydro dynamic analysis of the ship including the model tests. The crane structural integration analysis and a number of verification calculations and studies, including the stability analysis, the longitudinal strength, and the midship section design were carried out by Huisman.
The cranes, the stinger and the pipelaying equipment were designed, built, and delivered by Huisman.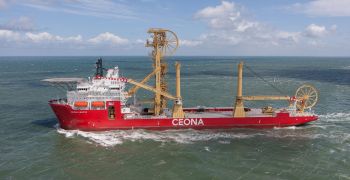 570mt Multi-lay Vessel
This 570mt Multi-lay vessel is a dynamically positioned pipelaying vessel with maximum pipe tension capacity of 570mt. The vessel is suitable for worldwide unrestricted service.
Huisman developed the concept design.