豪氏威马新型钻井设备LOC 400成功完成其首个钻井项目
2009年06月5日
豪氏威马新研发制造的海陆两用钻井设备LOC 400,在荷兰Werkendam成功完成其首个钻井工作。北荷兰钻井公司(NDDC)负责使用该套钻井设备,为北荷兰石油公司(NPN)服务。该套新近交付的设备成功地在6周内完成了整个井的钻探工作(总深度达2650米,即8694英尺),期间基本没有出现停工期。对于全新的钻井设备设计以及新的钻井合作伙伴来说,这是非常令人骄傲的成就。在钻探780米(2559英尺)的表层井眼时,所采用的新型CWD(套管钻井)技术,在荷兰尚属首例,而且创造了欧洲套管钻井新纪录。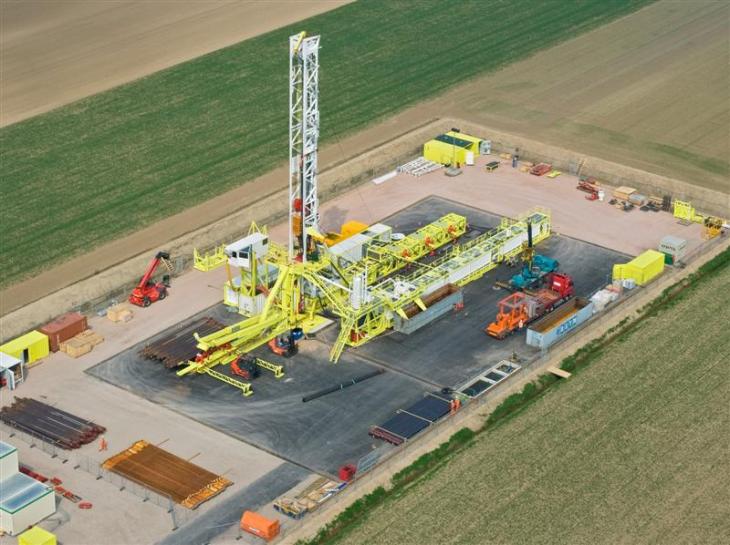 Huisman's newly developed containerised drilling rig, the LOC 400, operated by the Northern Dutch Drilling Company (NDDC) for Northern Petroleum Netherlands (NPN), successfully completed its first well in Werkendam, The Netherlands. The recently delivered unit managed to drill the entire well (TD = 2,650m (8,694ft) from spud to rig release in a period of 6 weeks, with very little downtime. This is a remarkable performance considering the completely new rig design and the new drilling contractor. In addition, the 780m (2,559ft) surface hole was completed using casing while drilling techniques, which is an absolute first for the Netherlands, the depth of the surface hole by Casing While Drilling is a new record for Europe.
Besides the surface hole, the project scope comprised two additional well sections: section 2 with a target depth of 2,100m (6,890ft) and section 3 with a final depth of 2,650m (8,694ft). Both sections were smoothly completed using drill pipe and a steerable BHA with mud motor. After this first project, the easy-to-move rig will be transported with regular container trucks to the north of the Netherlands to start its next project.
In 2005, Dutch-based worldwide specialist in lifting, drilling and subsea solutions Huisman, introduced the LOC 250, a fully containerised super single drilling rig for on- and offshore use, currently operating in the US and Mexico. Building on this experience Huisman developed and constructed the LOC 400. The drilling process does not require personnel on the rig floor for both casing while drilling and conventional drilling, which enhances safety for the rig personnel. The pipe handling and making of connections can be controlled from the driller's cabin.
The pipe handler can manage pipes without risk of damage to thread, enabling the protectors to be removed and the pipe to be doped while on the horizontal pipe rack, just 1.5m (4,9ft) above the ground. The top drive, stabbing arm and power tong make connections easy, safe, fast and reliable. For casing while drilling, the top drive and power slips can make and break connections, while the make-up is also monitored closely including torque graph recordings.
The LOC 400 has a very small footprint and is easy-to-transport as 27 ISO containers, guaranteeing fast, safe and therefore cost effective rig moves. The total number of personnel required to operate the rig is four.
Currently, another three LOC 400 units are under construction at the Huisman facility in the Czech Republic.