Huisman Geo receives prestigious innovation award for Huisman Composite Tubulars at GeoTHERM Conference in Offenburg
2023年03月3日
Huisman Geo is delighted to announce that it has been awarded the prestigious Ruggero Bertani European Geothermal Innovation Award for its composite downhole tubulars.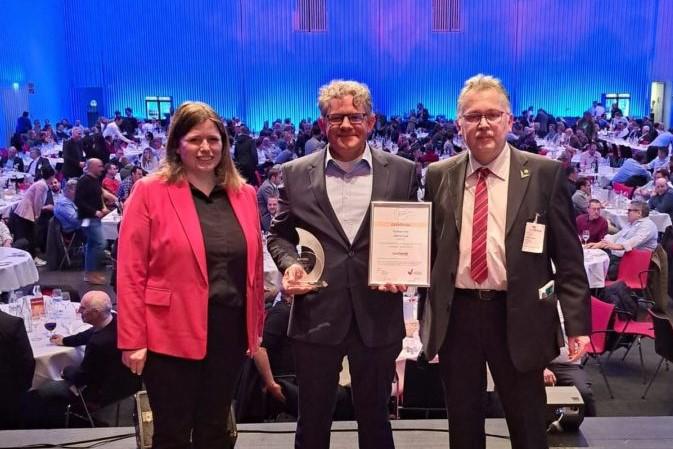 In early 2022, Huisman launched its full composite downhole tubulars system (HCT – Huisman Composite Tubulars). After years of development, the product is now successfully used in various applications such as geothermal, oil & gas, and carbon storage wells. An exceptional application for which the product is used, is in injection wells for highly corrosive carbonised salt water into basaltic bedrock, to capture the CO2. The innovation of the project lies in the fact that no full composite downhole tubulars were available before its launch. Additionally, the HCT system carries unique features, such as a full composite pipe body and strong yet slender threaded connections. Notably, it was also developed and tested specifically for downhole applications.
David Roodenburg, CEO of Huisman: "We would like to thank the Ruggero Bertani European Geothermal Innovation Award committee for recognising our company's innovation and dedication to supporting the geothermal sector. It is an honour to receive this award, and we are proud that our product contributes to sustainable geothermal solutions."
Huisman Composite Tubulars provide a smooth, corrosion free, and integer pathway for the lifetime of the wells (~30 years)—making them a reliable solution. In terms of emissions reduction, the production of Huisman Composite Tubulars saves between 25% to 50% CO2 emissions per meter of tubular, compared to steel tubular. What is more, there is significant reduction in pump losses and a huge cut in the need for (corrosion/scaling) inhibitors, saving approx. €100K per year for the operator and the related emissions with the production of such inhibitors.
Read more about Huisman Composite Tubulars