Huisman 25 years located in Wiltonhaven of Schiedam
2023年05月2日
This year, Huisman has been located in the Wiltonhaven in Schiedam (NL), the Netherlands for 25 years. The company moved to the Admiraal Trompstraat location at the end of 1998. Here, it grew into a global player in large cranes, installation equipment for offshore wind farms, and pipelay and drilling equipment for the world's leading companies in the energy sector.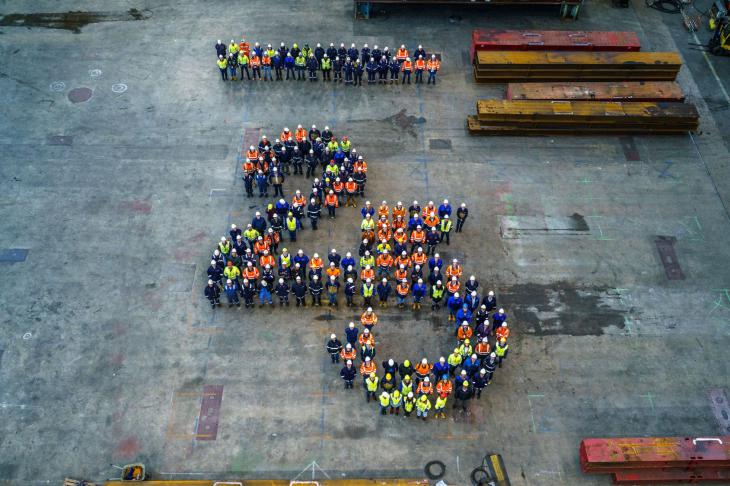 Huisman moved 25 years ago with approximately 180 employees, from a small location on Linschotenstraat in the city of Rotterdam to the former site of the Wilton Feijenoord shipyard. Today, the company has more than 500 employees working in Schiedam.
The Wiltonhaven is a strategic location for Huisman, offering access for seagoing vessels from the New Waterway. Huisman has a quayside of more than 300 metres with cranes able to install equipment to moored vessels.
In 2012, Huisman completed the construction of a 66-metre-high production hall, enabling it to produce, test and commission most products in-house.
Huisman then expanded its facilities in 2016 with the construction of a 90-metre-high drilling tower. This Huisman Innovation Tower (HIT) is used to demonstrate Huisman drilling equipment, for example for the geothermal industry, to develop future equipment and systems, and for training Huisman operators and employees.
Huisman was founded in 1929 by Mr M.M. Huisman as a steel construction company and has been owned by the Roodenburg family since 1980. At the time, the company had about 20 employees. The third generation of the family now manages the company, which employs more than 2,200 people worldwide. Besides the head office in Schiedam, Huisman's activities are spread over production facilities and offices in China, the Czech Republic, Norway, Singapore, Brazil and the US.
During its 93 years of existence, Huisman has delivered pioneering solutions to various industries worldwide. Today, Huisman is an important player in the global energy transition. The company designs, builds and services, among other things, the cranes and installation equipment used for the installation of huge offshore wind turbines.