Huisman to deliver heavylifting and pipelay equipment onboard Heerema's new Deep Water Construction Vessel
2010年07月26日
Huisman and Heerema Offshore Services signed a Letter of Intent for the delivery of all mission equipment onboard Heerema's new Deep Water Construction Vessel. Huisman will design, construct and install a 4,000mt Offshore Mast Crane and a pipelay tower for both J-lay and Reel-lay operations in ultra deep water. Installation of equipment is scheduled for 2012/2013, partly at the DSME yard in South Korea and partly at the Huisman quay in Schiedam, The Netherlands.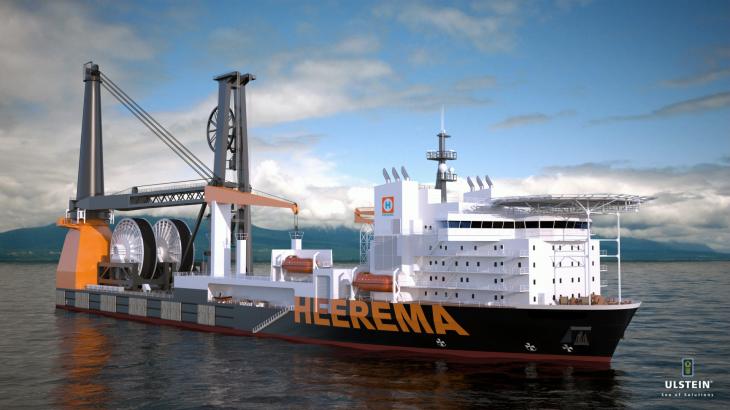 The heavy lift crane will have a revolving lift capacity of 4,000mt. The Mast Crane design was selected for this vessel because of the small footprint and small construction weight of the crane. The crane will be constructed at the Huisman facility in China and installed onboard the vessel at the DSME yard in South Korea in 2012. Recent examples of Huisman built heavy lift cranes of similar design include the 3,000sht crane onboard the Sapura 3000 and the 5,000mt crane which is currently under construction for the Borealis.
The J-lay tower is installed over a moonpool and is designed for both J-lay and Reel-lay operations. For Reel-lay, the tower features two pipe tensioners of 400t capacity each. The pipe is spooled on reels which can be lifted on board offshore by the vessel's own crane. This concept is a novelty in rigid pipelaying on a big scale. It allows for onshore spooling of reels while offshore pipelaying continues, eliminating the need for a large spool base. Also the reels can be easily removed to free up deck space when operating in J-lay or crane barge mode. Additional equipment to be delivered by Huisman includes moveable pipe reels, PLET handling, A&R winches and a heave compensated deep water lowering system. All pipelay equipment will be constructed and installed at Huisman Schiedam where the vessel will arrive around December 2012. The Dutch-based world market leader in turnkey delivery of deepwater pipelay systems has delivered numerous pipelay systems over the years, a 600mt S-lay system for the Borealis is currently under construction.
This new partnership between Heerema and Huisman is a result of their long-lasting relationship which started with the delivery of the J-lay system onboard the Balder in 2002. Huisman's extensive track-record of delivering reliable and effective offshore construction equipment, has contributed to this major commitment from Heerema.