Huisman opens new quayside Huisman China
2013年06月25日
25 June 2013: Today, Huisman, the worldwide specialist in lifting, drilling and subsea solutions, opened the new 380m long quayside at their production facility in Zhangzhou (Fujian), China. Huisman China, a 100% subsidiary of Huisman, has been fully operational since April 2007 and delivers a significant contribution to the overall Huisman engineering and production capacity ever since. The new quayside features a Huisman designed and produced 2,400mt travelling quayside crane which, together with the strong quay structure and the direct deep water access, makes Huisman China well suited for loading and installation of heavy steel constructions onboard large (offshore) vessels.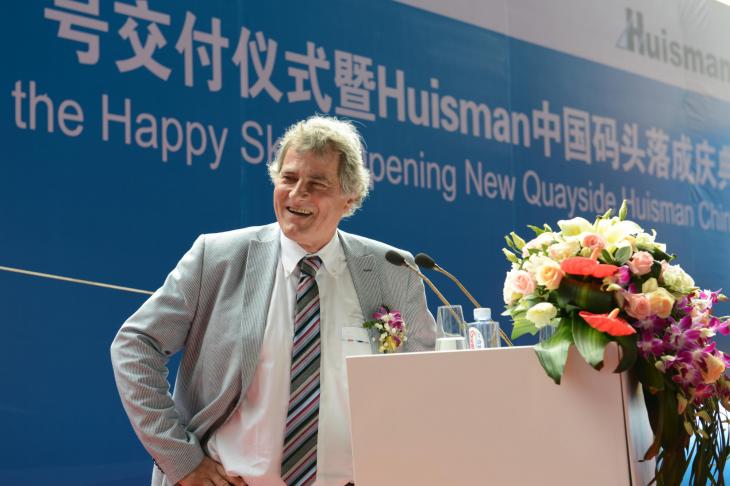 The new Huisman China quayside is specially designed to accommodate large offshore projects. The strong quayside structure combined with the excellent load curve of the 2,400mt travelling quayside crane and the deepwater access (17m) makes Huisman China easily accessible for various kinds of large size and deep drafted offshore vessels including semi-submersibles. The quayside application and design started in 2009 and construction (by reclamation) started early 2011. In total 100,000 square meters of land was reclaimed, which was converted into the 380m long quayside (with a load bearing capacity up to 40mt/sqm) and a storage yard of 86,000square meter. To facilitate Ro-Ro operations for transport of heavy project cargo, the quay is equipped with special Ro-Ro hinge foundations over a length of 130m.
The 2,400mt travelling quayside crane "Skyhook" is specially designed and fabricated by and for Huisman China. The crane has two main lifting configurations: a heavy lift configuration, capable of lifting 2400mt at 30m outreach (maximum lifting height of 100m) and an extended reach configuration, capable of placing a 200mt load at 90m outreach (maximum lifting height of 140m). The crane can travel along the 380m long quayside, and is capable of travelling this distance with a load of 2,400mt in its hooks.
The new Huisman China quayside was opened during the name-giving ceremony of BigLift's new Heavy Lift Vessel "Happy Sky". The vessel, built by Larsen & Toubro in India, features two 900mt Heavy Lift Huisman Mast Cranes which were the first to be commissioned at the new Huisman China quay side. The "Happy Sky" is the first of two Happy S Class vessels to be added to the BigLift fleet. The "Happy Star" will follow early in 2014, the fabrication of the vessel's two 900mt Heavy Lift Mast Cranes is currently in progress at Huisman China.