CN - Helix awards Huisman contract for Well Intervention System
2013年10月9日
Huisman, the worldwide specialist in lifting, drilling and subsea solutions, has secured a new contract from Helix Energy Solutions Group, Inc. for the delivery of a Well Intervention System onboard Helix's new build Semi submersible "Q7000". The system, which is based on Huisman's proven Multi Purpose Tower (MPT) design, will be built by the Huisman production facility in China.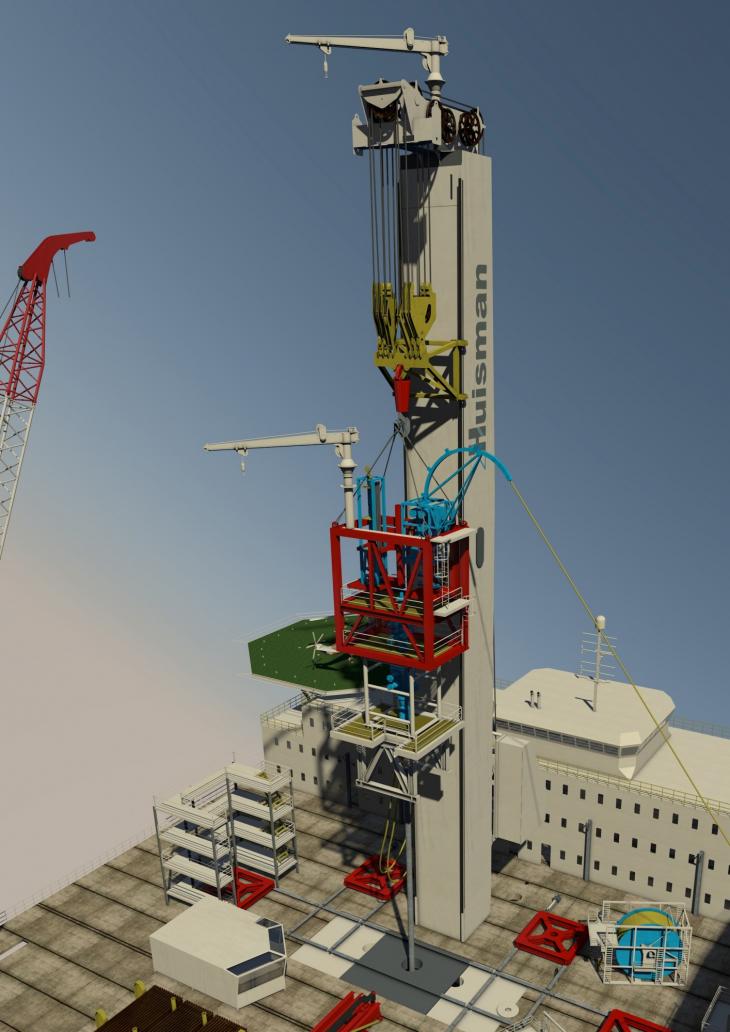 The fully integrated 800mt Well Intervention System will be capable of handling the Intervention stack, the high pressure riser and other components. The Huisman Multi Purpose Tower has the same functionality as a normal derrick but offers improved accessibility to the well center, which allows for new improved handling procedures that increase efficiency and safety. The superior accessibility to the well center and the small footprint of the MPT are ideally suited for well intervention and subsea installation services. Subsea equipment can be skidded into the well center from three sides, offering enhanced flexibility.
The active heave compensation hoist system of the MPT provides excellent means for safe landing of equipment at the seabed while the passive heave compensation system provides a safe and redundant means to supply top tension to the risers. A guide trolley, travelling the entire length of the tower, guides the subsea modules during lifting operations. The system also features multiple transfer hatches that can be used to move equipment into the well center, and a skiddable work floor covering the moonpool flush with main deck.
The skiddable work floor allows large subsea modules to be deployed, without the need for a raised work floor. When large objects need to pass the moonpool the work floor can be skidded aside. In closed position, the work floor is flush with the main deck, which significantly reduces HSE risks and improves equipment handling on deck.
In addition to the Well Intervention System Huisman will also supply a 150mt Knuckle Boom Crane and a 160mt Pedestal Mounted Crane. Previous orders from Helix, amongst others, the Multi Purpose Tower onboard the "Q4000", "Well Enhancer" as well as the cranes for the "Q4000" and "Q5000".