Another successful installation for Huisman China's Skyhook
2014年01月28日
Yesterday, the installation of the 3,000mt Offshore Mast Crane onboard the 'Lewek Constellation' was completed by means of Huisman China's new 2,400mt quayside crane. The quayside crane, also known as the 'Skyhook', installed the 3,000mt Offshore Mast Crane in a mere two lifts within a three day period. The vessel will leave Huisman China in April and is due to arrive at Huisman Schiedam mid 2014 for the installation of the 800mt Multi-lay Pipelay Tower. The 'Skyhook' further enables Huisman China to install, commission and test large pieces of equipment on a turn-key basis, mitigating project risks.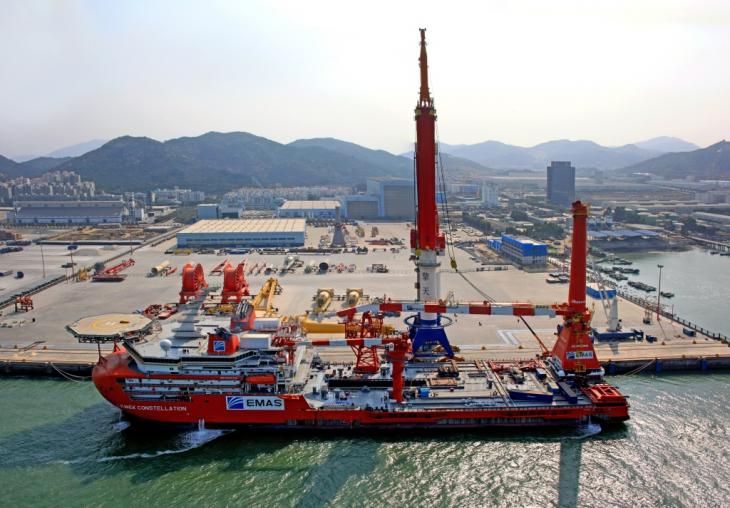 The 2,400mt 'Skyhook' has two main lifting configurations: a heavy lift configuration, capable of lifting 2,400mt at 30m outreach (maximum lifting height of 100m) and an extended reach configuration, capable of placing a 200mt load at 90m outreach (maximum lifting height of 140m). The crane can travel along the 380m long quayside, and is capable of travelling this distance with a load of 2,400mt in its "super ballast" main lift configuration.
The 'Skyhook' was designed and fabricated by Huisman and has been an operational quay side crane since the spring of 2013 along with the 380m long Huisman China quayside. The combination of the strong quayside structure with deepwater access (17m) and the Ro-Ro facility makes Huisman China a well suited facility for the manufacturing, loading, installation, testing and commissioning of heavy constructions onboard large (offshore) vessels or FPSOs.
Previously, the 'Skyhook' was used to install two 900mt Heavy Lift Mast Cranes for BigLift's 'Happy Sky'. Other examples of successfully manufactured, tested, commissioned and installed projects include one 850mt Offshore Mast Crane, two 800mt Offshore Mast Cranes and various 300mt Pedestal Cranes. Huisman China's order portfolio for 2014 and beyond is well stocked and includes various types of cranes, a 325mt Vertical-Lay pipelay system for Subsea 7 and a Well Intervention System for Helix Energy Solutions. Huisman China is OHSAS and API certified.