Huisman to build world's largest cranes
2014年03月19日
Huisman, the worldwide specialist in lifting, drilling and subsea solutions, has received a Letter of Intent for the delivery of the world's largest cranes onboard Heerema's planned new semi-submersible crane vessel. The cranes will have a lifting capacity of 10.000mt at a radius of 48m. Huisman is known for its signature mast crane design. These cranes will however be tub mounted. The two cranes will be built by the Huisman production facility in China. The final decision to build this new semi-submersible crane vessel will be made by Heerema before the end of this year.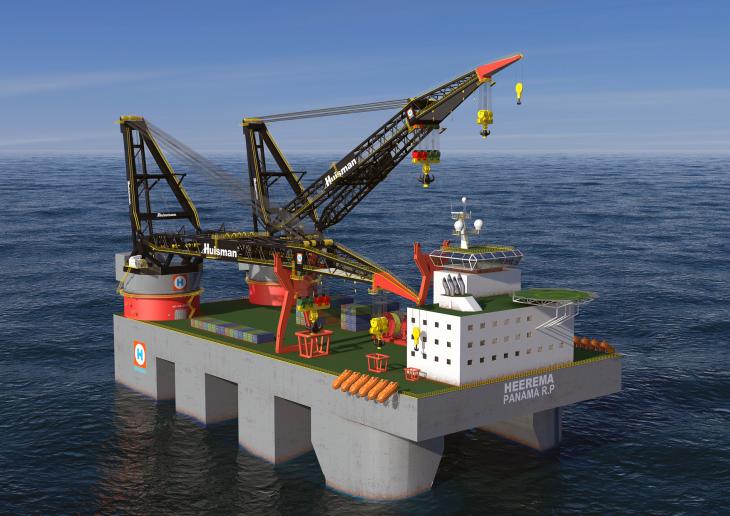 Unlike traditional Tub Cranes which make use of either bogies or large wheels for their slew system, the Huisman cranes will make use of large bearings of own design which are manufactured in-house. This technique represents a step change in the crane industry, and was previously used successfully on the 5,000mt Offshore Mast Crane for the 'Seven Borealis' and the 4,000mt Offshore Mast Crane for Heerema's 'Aegir". The use of bearings on the new 10,000mt Heerema cranes instead of the traditional slew systems allows for very accurate control of the slewing motion of the crane and requires very little maintenance. Another large benefit of using a bearing is a very significant weight saving. Especially on semisubmersibles this is an important feature. The slew bearings of these cranes will have a diameter of 30m.
The two cranes will each be able to lift 10,000mt at 48m radius in offshore conditions. The cranes further feature a 2,500mt aux hoist and a whip hoist with a maximum reach of 155m. The main hoist, in a reduced reeving, can lift 1,000mt to 1,000m water depth and is fitted with active heave compensation.
Anne de Groot, Project Director at Huisman: we are extremely proud of this commitment from Heerema. Firstly, the fact that Heerema has shown their confidence in our ability to build the largest cranes ever and secondly that yet another important Huisman innovation will deliver a contribution to the success of our client and the progression of the crane industry"