Huisman celebrates the delivery of the 100th Huisman China built crane
2015年09月22日
Huisman, the worldwide specialist in lifting, drilling and subsea solutions, celebrated the delivery of the 100th Chinese built crane at their production facility in Zhangzhou, China. The 100 cranes have a total lifting capacity of 65,000mt. The 100th crane is a 1,500mt Heavy Lift Mast Crane for Jumbo's 'Fairmaster'. The celebrated crane is one of a set of two 1,500mt cranes, giving the vessel a dual lift capacity of up to 3,000mt. The delivery of the 100th crane signifies a major milestone for Huisman China and proves the success of the Chinese Huisman production facility.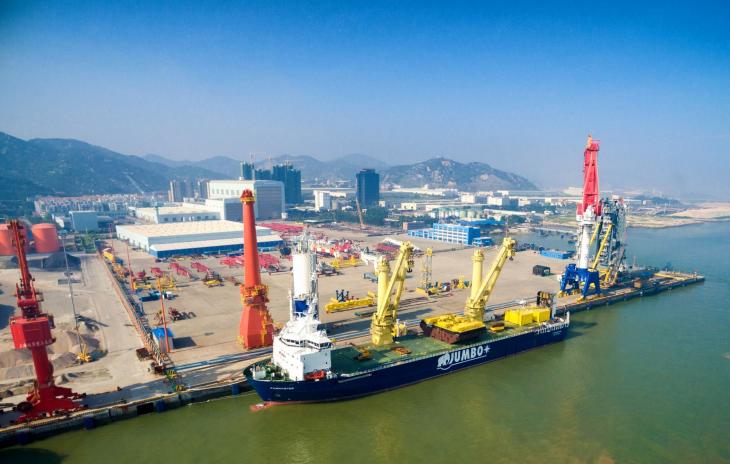 Huisman CTO Joop Roodenburg: "The fact that the 100th crane is the fourth Heavy Lift Mast Crane constructed for our client Jumbo at Huisman China confirms both the success of our Chinese production facility and our Mast Crane design of which the first was constructed by Huisman in 1983. We are grateful for the trust of our long lasting clients who made a firm contribution to the development of our Chinese facility to what it is now."
Jumbo's Director Commerce & Operations, Twan Voogt: "Jumbo congratulates Huisman and we are proud the have the 100th Chinese built Huisman crane on board of our 'Fairmaster'. Our K-class vessels 'Jumbo Kinetic' and 'Fairmaster' set a new standard in heavy lift shipping, both being able to lift up to 3,000mt. Today is a new milestone in the completion of this generation and we look forward to service our clients with our new vessels and powerful Huisman cranes."
The 100th crane is a 1,500mt Heavy Lift Mast Crane and is equipped with state of the art technology focused on improved safety and operational flexibility. This crane type is designed especially for Heavy Lift Vessels used for the oversea transport of large and heavy equipment. The cranes are characterized by their superior load curve, small footprint and low own construction weight.
Huisman China, a 100% subsidiary of Huisman, is located in the Fujian Province (Xiamen area) in China. The facility has been fully operational since April 2007 and delivers a significant contribution to the overall Huisman engineering and production capacity ever since. The facility has a 380m long quayside, a Huisman design 2,400mt travelling quayside crane which, together with the strong quay structure and the direct deep water access, makes Huisman China well suited for loading and installation of heavy steel constructions onboard large (offshore) vessels. Huisman China is certified according ISO 9001, OHSAS 18001, ISO 14001 and API.