Huisman holds steel cutting ceremony for Heerema's 10,000mt Tub Mounted Cranes
2015年07月1日
Huisman, the worldwide specialist in lifting, drilling and subsea solutions, held a steel cutting ceremony together with Heerema for the two Heerema 10,000mt Tub Mounted Cranes at their facility in China. These world's largest cranes will be installed onboard Heerema's new semi-submersible crane vessel. The steel cutting event signifies a major milestone for the project to proceed to its construction phase to meet the delivery schedule by the end of 2018.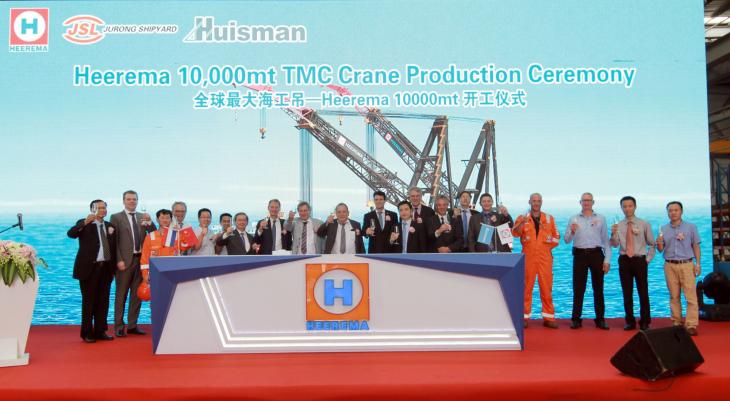 Joop Roodenburg, CEO at Huisman: "We are honored that Heerema has shown their confidence in our ability to design and construct the largest cranes ever, for what will be Heerema's main construction vessel for the coming 30 years. Furthermore, we are extremely proud that the innovative Huisman design for the two 10,000mt Tub Mounted Cranes will contribute to the further development of the crane industry'.
Heerema Marine Contractors' CEO Jan-Pieter Klaver: "We are very pleased with the progress in the development of our new semi-submersible crane vessel. Huisman is a reliable and professional partner with whom we have worked to our satisfaction for many years. Their innovative design for the NSCV's two Tub Mounted Cranes will enable us to service the offshore oil and gas industry in ever better ways in the most diverse of circumstances."
Unlike traditional Tub Cranes which make use of either bogies or large wheels for their slew system, the Huisman cranes will make use of large bearings of own design which are manufactured in-house. One of the largest benefits of a bearing is that this allows for a substantial weight saving of the crane. Especially on semisubmersibles this is an important feature. The slew bearings of these cranes will have a diameter of 30m. The two cranes will each be able to lift 10,000mt at 48m radius in offshore conditions.