VOTE FOR HUISMAN'S 5000mt OFFSHORE MAST CRANE AS INNOVATION OF THE YEAR!
22 januari 2013
Huisman's 5000mt Offshore Mast Crane aboard of Subsea 7's flagship and strategic enabler 'Seven Borealis' has been nominated for the Innovation of the Year Award. The award winner will be revealed during the Annual Offshore Support Journal Conference on 19-20 February in London. The conference advisory panel has shortlisted Huisman for its Offshore Mast Crane and voting for the award is open until 25 January.
You can enter your vote via this link: https://www.surveymonkey.com/s/INN213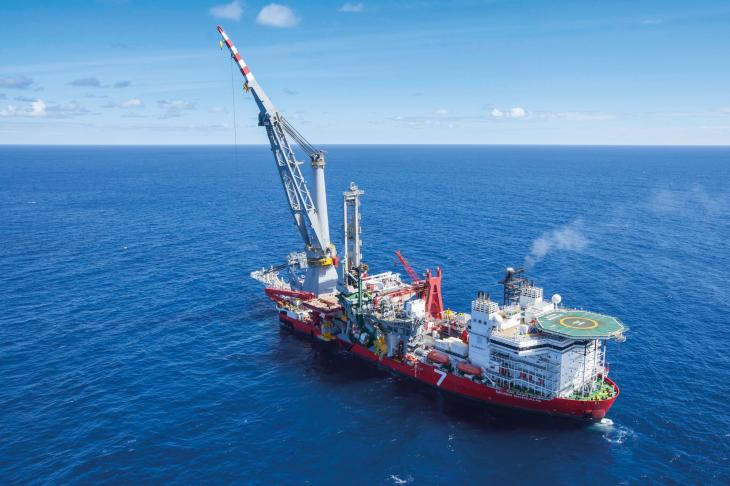 Huisman, the specialist in lifting, drilling and subsea solutions, successfully delivered world's largest Offshore Mast Crane onboard the "Seven Borealis". The crane, with the top of the mast reaching 150m above the main deck when in upright position, features a full heave compensated deepwater lowering system which will make it an efficient tool for the installation of heavy loads required for deepwater subsea production systems.
The 5,000mt crane was installed, commissioned and load-tested at Sembawang Shipyard in Singapore. Besides the two 2,500mt main hoisting blocks the crane has a 1,200mt auxiliary hoist which is equipped with an active and passive heave compensation system and is capable of storing up to 6,000m hoisting wire. The tip of the fly jib has an additional 110mt whip hoist. The total installed motor power is approximately 15MW. The crane revolves on an in-house designed and fabricated slew bearing with a diameter of 11m. The crane provides unique features that enable unparalleled services.
The in-house developed and manufactured Huisman Mast Cranes are used within the industry for over 30 years and have become a standard in the design and construction of heavy lift cranes. New heavy lift mast cranes in the range of 1,800mt to 4,000mt are currently under construction.