Skandi Africa wins 'Ship of the Year' award
4 juni 2015
The Offshore Subsea Construction Vessel "Skandi Africa" was yesterday awarded the prestigious "Ship of the Year" award, instituted by Nordic shipping magazine, Skipsrevyen. The vessel is currently at the Huisman Schiedam quay for final outfitting.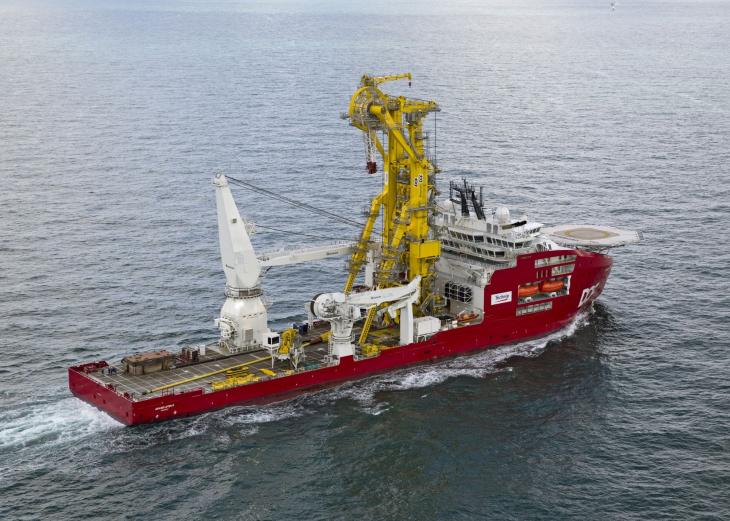 The award was presented by Norwegian Minister of Trade and Industry, Mrs. Monica Mæland, at the maritime exhibition Nor-Shipping to representatives of DOF Subsea as ship owner and VARD as designer and builder.
According to Vard, a company which built the vessel, "Skandi Africa" was built according to VARD 3 12 design and is specially designed and equipped for subsea operation duties with a high focus on sea-keeping capabilities, excellent station keeping performance and low fuel consumption.
The DP class 3 vessel is designed for harsh environments, and for deep water subsea construction and flexlay operations up to 3,000 m in depth.
The ship's top-side features a 900 metric ton (mt) Huisman pedestal mounted crane with subsea lowering system and combined active and passive heave compensation system. In addition, there is a 650 mt Huisman tiltable lay system for flexible pipes, and pipe storage equipment with a 3,500 mt basket.
The ROV hangar is equipped with two heavy duty work ROVs launched through moonpools up to 4,000 m water depth. The moonpools have damping zones, according to Vard Design's sea-keeping capabilities R&D program. Dimension-wise, "Skandi Africa" has a length x breadth of 160.9 x 32 m and a cargo deck measuring 2,700 m2. Boasting a gross tonnage of 22,689 mt, the vessel can accommodate up to 140 persons.
The jury said this year's "Ship of the Year" is setting new records within its field of work. For VARD, the latest win marks the eighth time in the last 16 years that a vessel built by the group has been recognized with the award.
Vard CEO and Executive Director, Roy Reite, said, "This was one of the largest and most complex projects undertaken by VARD to date, where we also had responsibility for the turnkey delivery of topsides. I would like to thank our long-time customer DOF and the team at VARD for the excellent cooperation, making this proud achievement possible."