Jumbo Kinetic Lifts 3,000mt Record
25 april 2015
On Saturday 25 April 2015, Jumbo Kinetic set a new heavy lift record by lifting 3,000t during the test lift at the Huisman production facility in Zhangzhou, China. The completion of the test lift marks the successful delivery of a new generation heavy lift vessels.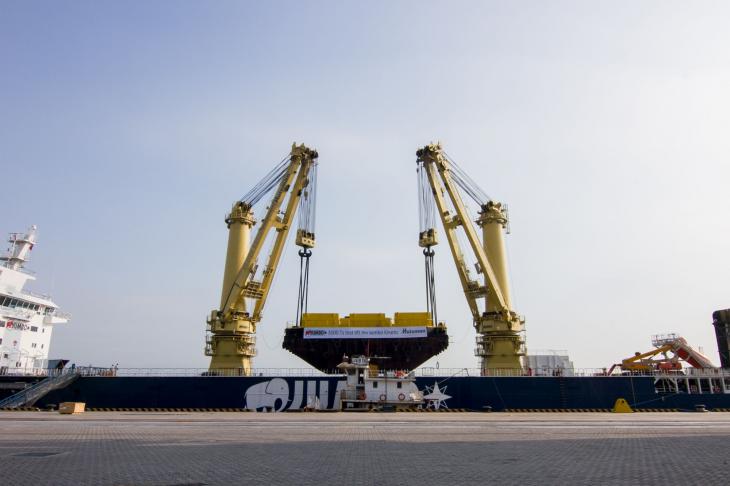 Increasing weight
Jumbo and Huisman engineers prepared all the test lifts for Jumbo Kinetic meticulously. The first test was executed with a weight of 250t and every test was thoroughly evaluated. The weight of the tests gradually increased to a maximum of 1.650t, this included a 10% overload which is common during testing operations. The final lift test was a tandem lift of 3,000t which Jumbo Kinetic passed with distinction. Jumbo obtained the Lloyd's Crane Certificate (LA2).
Raising the bar
Traditionally, Jumbo invests in innovative new heavy lift vessels and with the introduction of Jumbo Kinetic it again raises the bar of what is possible in the heavy lift shipping industry. Jumbo Kinetic is a dedicated heavy lift vessel, being very flexible and efficient in positioning heavy cargoes in any position onboard. This way, Jumbo Kinetic is able to lift and transport multiple super heavies in one go, providing a very cost efficient solution for complex projects.
Jumbo's K3000 class vessels
Jumbo Kinetic is the first of two K3000 vessels in Jumbo's fleet. This new vessel, which represents the latest evolutionary step in the Jumbo fleet as well as in the heavy lift shipping industry. Jumbo Kinetic has a dual lift capability of up to 3,000t and is certified Ice Class 1A Swedish/Finnish for extra versatility. The other K3000 vessel, Fairmaster, is due to enter service in Q3 2015.
Jumbo Kinetic's voyages
On 21st of December 2014, Jumbo Kinetic was delivered from the shipyard in Croatia. The vessel sailed directly to the Huisman facility in China. Jumbo Kinetic's next commercial voyage starts in Zhangzhou and consists of two consecutive trips to Samsung Heavy Industries facility at Geoje Island in Korea.
Preferred supplier
Huisman develops and manufactures in-house designed cranes and has been Jumbo's supplier of high quality reliable cranes for every generation of Jumbo vessels. This long term cooperation with Huisman illustrates Jumbo's believe in strong relationships with suppliers and clients.
Jumbo
Jumbo is a heavy lift shipping and offshore transportation & installation contractor. Jumbo has been developing pioneering solutions for ocean transportation for almost 50 years. Since 2003, building on its heavy lift capability, Jumbo rapidly established a sound track record in the offshore subsea installation market. It is Jumbo's philosophy that engineering, safety awareness and environmental care stand at the forefront of a reliable operation.

Huisman
Huisman is a globally operating company with extensive experience in the design and manufacturing of heavy construction equipment for world's leading on- and offshore companies. The equipment, either being stand-alone to highly engineered and integrated systems is designed and manufactured under own management, from concept to installation. The operations are divided between the offices in The Netherlands, Australia, Brazil, China, Czech Republic, Norway, Singapore and the USA and the production facilities in The Netherlands, Brazil, Czech Republic and China.