Huisman celebrates 20 year anniversary of Czech production facility
26 June 2017
On Saturday 24 June, Huisman, the worldwide specialist in lifting, drilling and subsea solutions, celebrated the 20th anniversary of their production facility in the Czech Republic: Huisman Czech Republic. The facility, located in Sviadnov (Ostrava Region) opened in 1997 and has since then played an important role in the Huisman production and engineering force. The facility, employing around 600 people, is specialised in the production of high tensile strength steel constructions and critical components.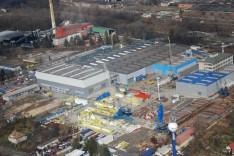 The facility manufactures entire products, such as knuckle boom cranes, special lifting applications and the LOC 400 drill rig. It also builds components that are completely assembled, commissioned and tested and then installed at the quaysides of the Huisman production facilities in the Netherlands and China.
Huisman Czech Republic is certified according to ISO 9001, OHSAS 18001, ISO 14001 and API Q1.