Huisman signs agreement with agent Exeno Yamamizu for Japanese region
16 August 2017
Early August 2017, Huisman, the provider of step changing technical solutions, signed an agency agreement for promotional and representational services with Exeno Yamamizu Corporation for the Japanese market. After the contract award of Penta Ocean Construction / Japan Marine United for the delivery of an 800mt Huisman PMC in 2016, Huisman is convinced that local representation is required to build and maintain relationships in Japan effectively. Maritime trading house Exeno Yamamizu will be the first point of contact for Japanese clients and through communication in the Japanese language, Huisman's local presence in Japan will be enhanced.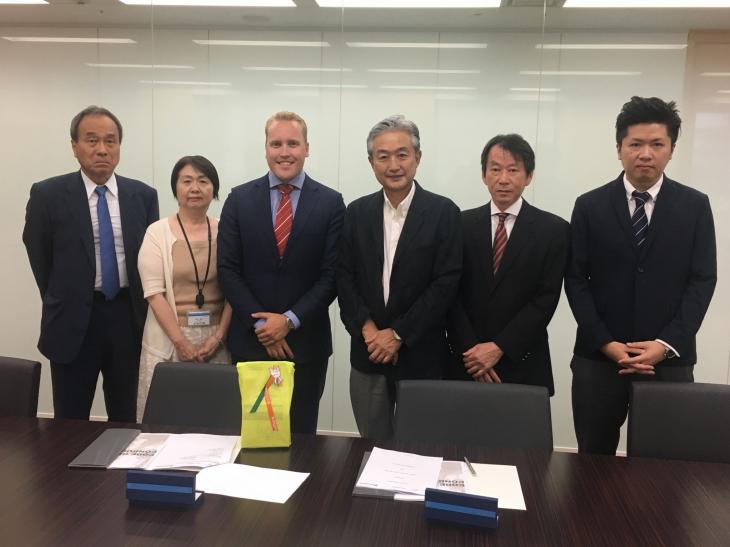 Huisman sees significant perspective in providing competitive, tailor made and innovative equipment solutions for Japan's changing energy demands, such as the Huisman products for the offshore wind industry and the geothermal energy market. The mentioned Penta Ocean / JMU project is one first example of such an equipment solution, with Huisman's close cooperation with Japanese classification society ClassNK, a Japanese shipyard (JMU) and incorporation of products of Japanese electrical drive system supplier Yaskawa.
The teams of Exeno Yamamizu and Huisman look forward to work together and expand Huisman's horizon into Japanese markets.
Illustration: The team of Exeno Yamamizu and Huisman's Regional Sales Manager Timon Ligterink after signing the contract.