Huisman holds steel cutting ceremony for OOS International & CMHI 2,200mt Offshore Mast Crane
30 October 2017
Huisman, the worldwide provider of step changing technical solutions, organised a steel cutting ceremony together with CMHI and OOS International for their new 4×2,200mt Offshore Mast Cranes at the Huisman production facility in China. The cranes will be installed on two vessels for OOS International, which are currently being built by CMHI Jiangsu shipyard.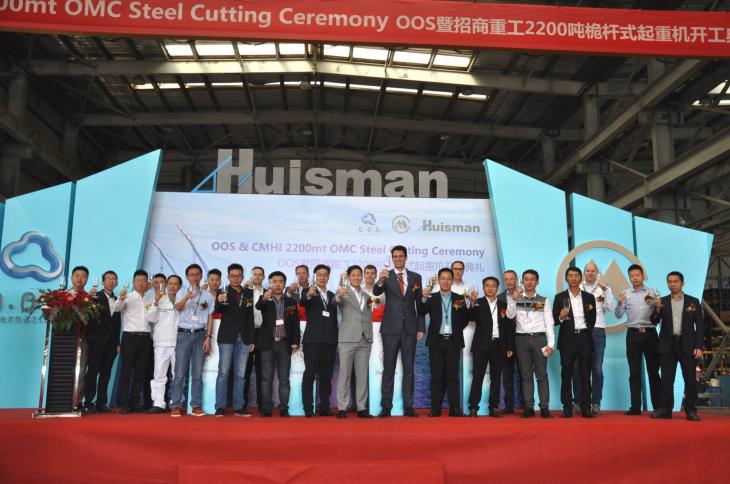 Pim Overes, Managing Director of Huisman China said: "This moment can be considered a milestone step in our cooperation with CMHI. Never before did CMHI and Huisman team up to jointly supply a vessel to the market. With CMHI as a strong and reliable partner within China's offshore vessel construction market we expect and look forward to a long and successful journey together. Furthermore, it has been a pleasure to work with the dedicated and highly experienced team of OOS. I am really pleased to see that this small team of people is already making waves in the offshore industry!"
Timothy Tan, General Manager (Asia Pacific) of OOS International said: "As our vessel's main purpose is to perform heavy lifting operations offshore, it is crucial and necessary to have the best cranes installed on the vessel. And with Huisman, we believe we have selected the best in the market. Huisman is an unrivalled innovator and leader in the offshore lifting equipment industry, well known for their commitment to provide innovative, efficient and reliable equipment solutions to end-clients. Having been in various discussions with Huisman over the past year on the design and engineering of our cranes, I can testify to it."
These Offshore Mast Cranes are capable to lift 2,200mt per crane and up to 4,400mt when operating in tandem lift mode. They are also able to perform subsea lifting down to 3,300m water depth. All cranes will be equipped with active heave compensation systems.