Huisman successfully upgrades cranes Biglift's Happy Star to 1,100mt
26 September 2018
Huisman, the worldwide provider of stepchanging technical solutions, successfully finalised the upgrade to 1,100mt of two 900mt Heavy Lift Mast Cranes onboard BigLift's heavy lift vessel 'Happy Star' giving the vessel capabilities unmatched in the world fleet of heavy lift vessels. The recent upgrade was executed at the Huisman Service & Assembly location in Schiedam, the Netherlands.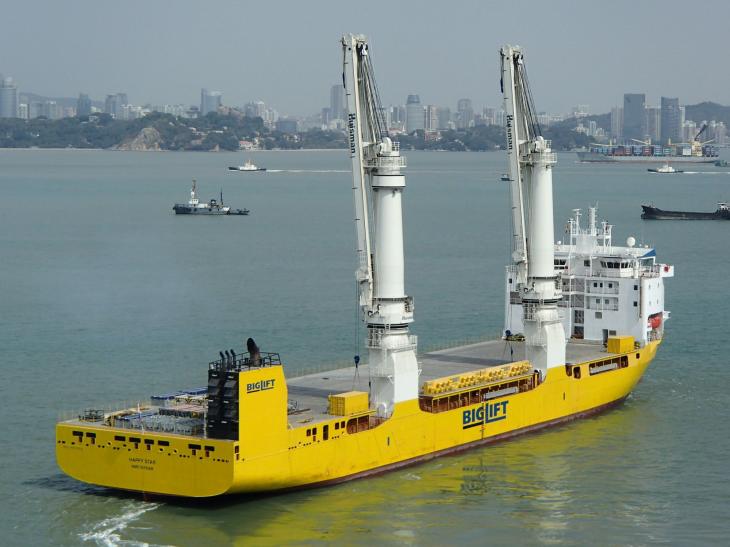 The upgrade of both Huisman built 900mt cranes was realised by the implementation of a 20 falls reeving modus (previously 16 falls) and modifications of the top of the boom and the main hoist block. The 1,100mt cranes retain the possibility to sheer back to the original 800mt (14 falls) and 900mt (16 falls), in order to maintain full flexibility. Also, the available fly jib can still be used. A new rope, equipped with a fast reeving socket, is used to reduce the conversion time considerably.
Martijn Reissenweber, Director Huisman Services, says: The upgrading of cranes is not only adding lifting capacity, it is also about implementing innovations and improving capabilities in order to support our clients in their current and future business. Huisman and BigLift Shipping share a long history together in the design of heavy lift cranes and handling materials. Our cooperation started in 1984 with the delivery of the first Heavy Lift Mast Cranes for BigLift's 'Happy Buccaneer' and BigLift has been a highly valued client ever since".