Huisman celebrates its 90th anniversary and reaches milestone of 150.000mt total lifting capacity
25 September 2019
Huisman is celebrating its 90th anniversary as a leading designer and manufacturer of innovative and step changing technical solutions, to the world's leading companies in the renewables, oil & gas, civil and entertainment industries. The company was founded in 1929 by Mr. M.M. Huisman as a steel construction company. It has been family owned and operated by three generations of the Roodenburg family since 1980. During the last 90 years, Huisman has delivered significant breakthroughs to global industries. The start of the anniversary year coincides with an impressive milestone: reaching a combined total of 150.000mt lifting capacity. This remarkable number is an add up of the capacity of all cranes built by Huisman during the last 90 years, of which the very first crane is still in service.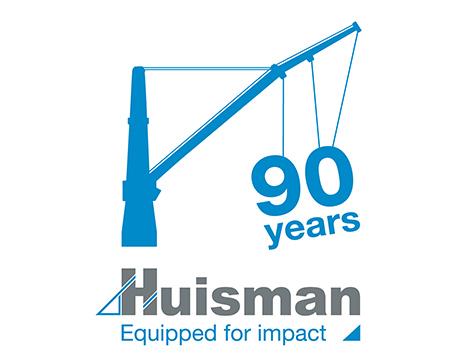 Joop Roodenburg, President of Huisman:
"Our history is one of setting new industry standards. Our compact and innovative design for heavy lift cranes developed in 1980 is one of the examples.The first two 550mt mast cranes were delivered in 1984 for BigLift's 'Happy Buccaneer'. This design proved to be a real step change in the heavy lift industry. Over 100 cranes of this type have been delivered since then. Many of innovations followed this step change. I am proud to say that at Huisman we make the impossible possible. With cutting edge technical innovations and lifetime services. We are driven by innovation and thrive when we do what hasn't been done before.
With our one stop shop solutions we have unique features. We design, engineer, produce, test, install, commission and provide service, all in house.
Looking at the future and the energy transition which is in full swing, I have great confidence that our pioneering spirit will enable us to keep adding value to our clients in various industries.
We thank our clients for the trust put in us and all the opportunities given during the last decades."
Due to the strong belief in long lasting partnerships with clients, the commitment to finding new technical solutions and the dedication to provide service to partners with highly engineered integrated systems, Huisman has built an international track record as valued, solid and reliable partner.
Recent successes of Huisman include the delivery of a cutting-edge monopile gripper for Jan De Nul's Vole au vent, a contract for the design, engineering, construction and delivery of the world largest Leg Encircling Crane on Jan De Nul's newest offshore wind turbine installation vessel 'Voltaire' and setting a world record with the final completion of 2x 10,000mt Tub Mounted Cranes for Heerema's Sleipnir.