Huisman signs contract with Shanghai Xiongcheng to deliver a 3,000 tonne pile winder crane
30 August 2021
Huisman, a worldwide provider of innovative technology solutions, has signed a contract with Shanghai Xiongcheng Offshore Engineering Co. The crane will be installed on its new generation of self-lifting and self-propelled offshore wind installation vessels.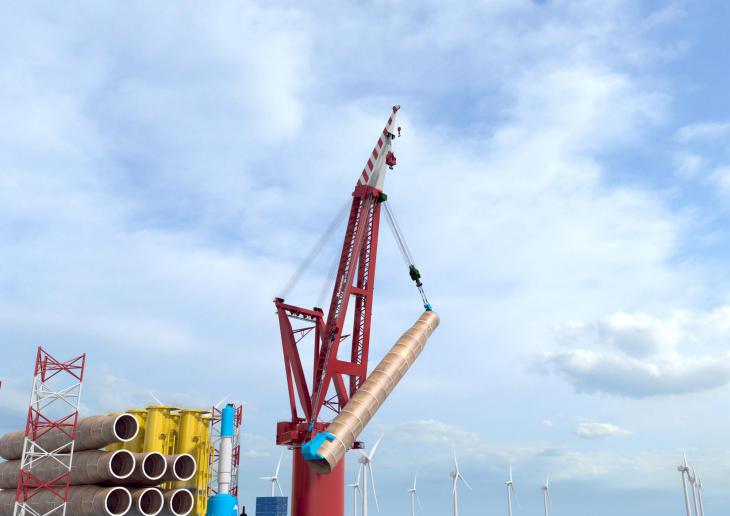 The wind power installation vessel is equipped with Huisman 3000 tonne pile winding crane after completion will become one of the most advanced offshore wind power installation vessels in China and the world. Throughout the global offshore wind power industry, offshore wind turbines are constantly updated and iterated, their size and deadweight are getting bigger and bigger, the requirements for installation vessels are getting higher and higher, and the existing offshore installation vessels in the market are facing more and more difficulties when installing this type of wind turbine. Huisman's pile-wrap cranes are unique in many aspects such as lifting capacity and lifting height, enabling the safe and efficient installation of the latest generation of offshore wind turbines. The crane is equipped with a double main hook configuration, which allows for the turning of monopiles or duct racks without the need for additional equipment, greatly enhancing the efficiency of offshore wind installations.
Ltd. is a professional service provider engaged in offshore wind power, cross-sea bridges, and offshore oil platform foundation construction, has participated in a number of cross-sea bridges, offshore wind power and other key projects, which is the advantage of the above areas of enterprise. The choice to cooperate with Huisman again fully reflects the trust in Huisman, and once again proves that Huisman pile-winding cranes are highly recognized and favoured by the Chinese offshore wind power market.
Zhang Tie, Chairman of Shanghai Xiongcheng, said: We are currently using five Huisman cranes, amazed at the powerful function and reliability of Huisman cranes, bringing great value to our offshore engineering operations. Therefore, our company for China's offshore wind power 14th Five-Year Plan, the 15th Five-Year Plan to build a new generation of offshore wind power integrated ships will still use Huisman's high-end cranes. We hope that in 2023 Huisman will deliver a perfect 3,000-tonne crane to complement our new generation of wind turbine installation vessels, making it a dream vessel, a leading vessel and an epoch-making vessel!
David Roodenburg, Chief Executive Officer of Huisman, said: "With this order for a pile-winding crane, we are proud to support the important contribution that Shanghai Xiongcheng is making to the development of offshore wind power in China. We are very grateful to our client for the trust they have placed in us by choosing a Huisman crane equipped with a unique double main hook hoisting function that allows for the efficient turning of monopiles. Our team is committed to delivering this crane to the highest quality standards to ensure it can operate safely, efficiently and economically in offshore wind farms.
Features and benefits of the Huisman pile winding crane:
Fully electric drive system for high precision positioning, low maintenance costs and greater reliability.
Self-developed slewing bearing system for highly accurate positioning of the crane and improved reliability.
Unique double main hook lifting system for easy turning of the wind turbine foundation.
Low tail swing for optimal use of deck space.