Huisman to deliver two >2,000mt Leg Encircling Cranes for Cadeler X-class vessels
1 December 2021
Today, Huisman, the worldwide provider of step changing technical solutions, announces that it has been awarded a contract from COSCO Shipping (Qidong) Offshore Co., Ltd. for the design and construction of two >2,000mt Leg Encircling Cranes (LEC). The cranes will be installed on the two new build X-class vessels of Cadeler, a key supplier within the offshore wind industry for installation services, operations and maintenance works.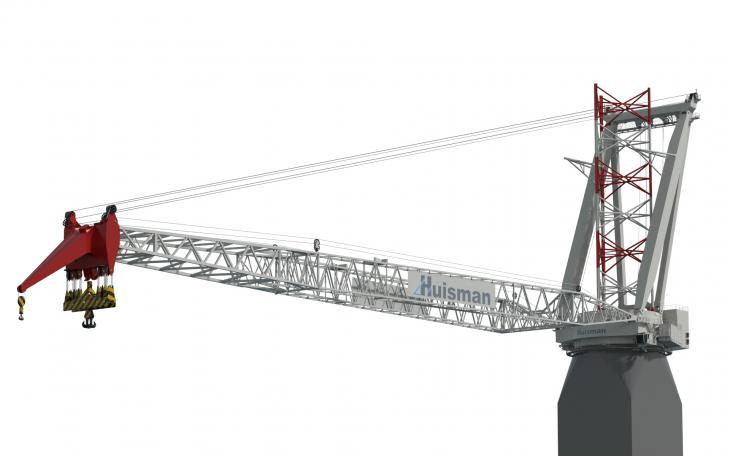 The identical Leg Encircling Cranes have a 155-metre long boom, capable of reaching 180.5m above deck. Optionally, the boom can be upgraded to 175m in order to increase the lifting height to 200.5m. With these cranes, Cadeler will be capable of installing offshore foundations and next generation wind turbines for its future offshore wind projects worldwide.
Huisman LECs are characterised by their lightweight, yet robust crane designs, with a high level of reliability, energy efficiency, and a limited tail swing, making them ideal for the construction of offshore wind farms.
The scope of work for Huisman consists of the design, engineering and construction of the two LECs at its production facility in Zhangzhou, China. The cranes will be commissioned at COSCO's shipyard in Qidong, China, where the X-class vessels will be built.
Features & benefits of the Huisman Leg Encircling Crane
A fully electrically driven system, resulting in high positioning accuracy, reduced maintenance and high reliability.
The optimised energy grid reduces the energy consumption of the crane significantly.
In-house developed slew bearing system, providing highly reliable and accurate positioning of the crane.
The boom's unique design makes it stiff and lighter in weight.
Stiff construction of the boom leading to reduced motion at the crane tip.
Small tail swing allowing for optimised utilisation of free deck space.