Huisman delivers 250mt Knuckle Boom Crane for new Subsea 7 Multi Purpose Offshore Construction Vessel
9 September 2010
Huisman, the Dutch-based specialist in lifting, drilling and subsea solutions will soon deliver a 250mt Knuckle Boom Crane to Subsea 7. This state-of-the-art crane is currently being load tested at the Huisman facility in Schiedam, the Netherlands. The crane will be installed onboard Subsea 7's newly build Multi Purpose Offshore Construction Vessel Seven Pacific within the next months.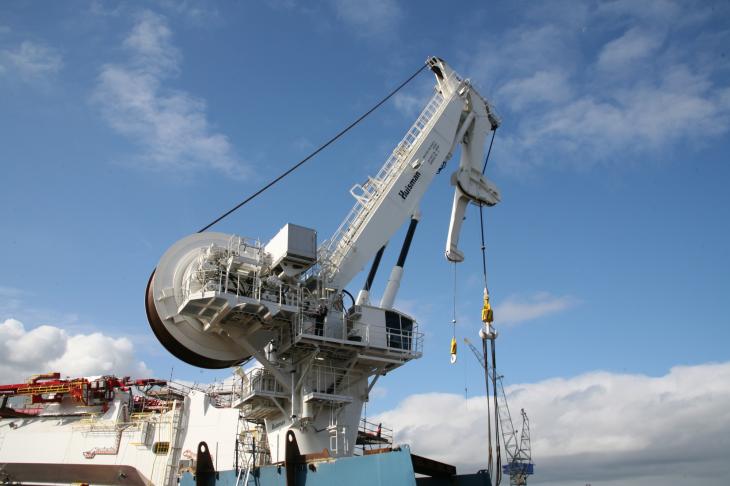 The crane will be used for offshore construction and subsea installation work up to a water depth of 2,500m. It is the fifth crane of this type to be delivered by Huisman. Recently delivered Knuckle Boom Cranes include three 120mt cranes for Hornbeck Offshore, Subsea 7 and EZRA and one 150mt crane for Technip. Another 150mt Knuckle Boom Crane, suitable for a water depth of 3,000m, is currently under construction for Otto Candies.
The crane is equipped with an unique in-house developed secondary controlled hydraulic drive system. Secondary controlled hydraulics enable real-time active compensation of the heave movement of the crane tip minimizing the load movement. During heave compensation energy can be stored in an accumulator to reduce the power consumption of the crane. Huisman introduced secondary controlled hydraulics as a drive system for the main crane of the Smit Semi 1 in 1986 and has successfully used the system on many cranes since.
In addition the crane is equipped with three independent electro-hydraulic power units. This provides a high redundancy level. The crane will remain operational with only one or two pump set running.
Additional features:
Constant Tensioning
Manual Overload Protection System
Automatic Overload Protection System (on auxiliary hoist)
Luffing cylinders are ceramic coated.