Noble Bully II drill tower departs from Huisman to Singapore for installation
28 September 2010
Monday evening 27 September 2010, the drill tower for the Noble Bully II drill ship left the Huisman quay in Schiedam heading for the Keppel Shipyard in Singapore, where it is expected to arrive early November. Huisman, the Dutch–based specialist in heavy lifting, pipelay and drilling equipment, designed and manufactured the drilling tower and related cranes, pipe, riser and BOP handling equipment.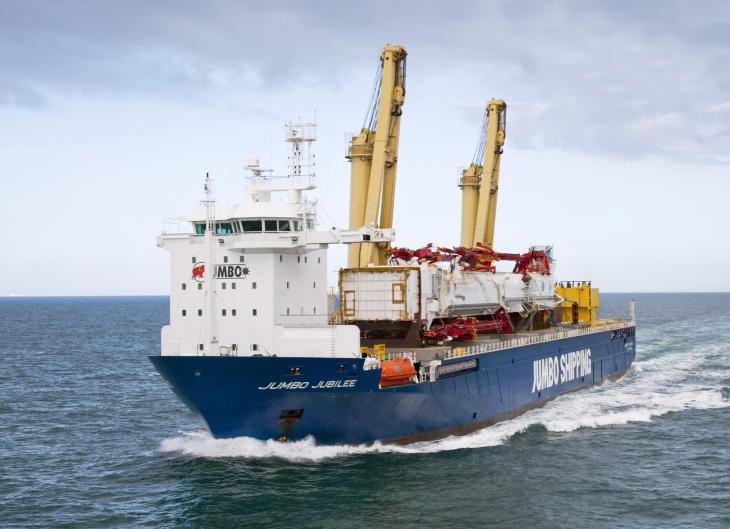 Most equipment has been manufactured at the Huisman production facility in The Netherlands. The drill tower has been upended on the quay, fully assembled and tested prior to transportation. Also the topdrive including service loops was installed and tested. For the Noble Bully II one of the setback carousels including four pipe rackers has been installed enabling testing of the pipe handling system already in Schiedam. The drill tower (80m) will be installed onboard the vessel with a single lift. Testing and commissioning will start soon after the installation onboard the Noble Bully II.
Apart from the drilling tower, Huisman also delivered all equipment for the handling of drill pipe, casings, marine risers, subsea and surface BOPs and X-mas trees, the riser tensioning system, both deck cranes and both drillers cabins. With the equipment come all power systems as well as an integrated control system which also controls third party equipment. This equipment has previously been shipped to Keppel Shipyard in Singapore.
The Bully range drill ships are designed to offer a lower cost and more flexible alternative for drilling in ultradeep and Arctic conditions. The selection of Huisman's compact box type drilling tower instead of a conventional derrick allows for a significantly smaller sized vessel compared to other deepwater drill ships of similar capacity. The box type drill