Huisman and Bakker Sliedrecht announce expansion of collaboration to China
18 November 2010
Huisman, the Schiedam-based designer and manufacturer of heavy construction equipment for international onshore and offshore companies, and Bakker Sliedrecht, provider of total solutions related to maritime and industrial electro techniques, have announced to expand their collaboration to China. The Huisman production facility in Fujian will get a specially equipped workshop supervised by Bakker specialists for the production of electronically controlled drive systems. For Huisman this will result in a saving on the total cost of drive systems, Bakker Sliedrecht creates the possibility to enter the Chinese market on an extended scale.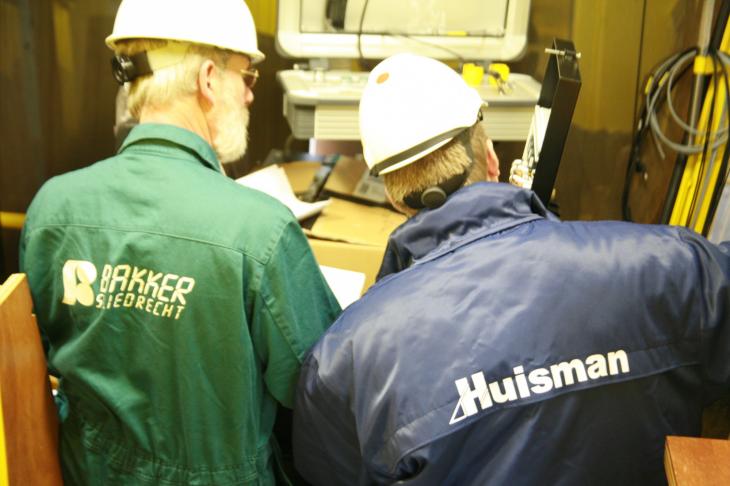 For customers the collaboration results in the offering of a broader overall package, enabling the overall solutions including commissioning from one location. Huisman will, under the supervision of Bakker Sliedrecht, realize the production combined with a joint purchasing in which the overall article management will be aligned. Huisman's Product Data Management system (PDM) will be used for joint engineering data. The various necessary investments are currently being done to enable an immediate start with a fully equipped workshop.
"We have started this cooperation for the production of drive systems with long-term intentions" says Jan Noorlander of Bakker Sliedrecht. "We have researched the opportunities and benefits for the market thoroughly in advance as we will both invest a lot of knowledge, capacity and time. We are both confident that this collaboration will turn into a success". Huisman and Bakker Sliedrecht maintain a long and good relationship which is based on solid cooperation, mutual knowledge exchange and trust. "Both companies play a leading role in the industry" says Jens Ekelaar, Manager Hydraulics, Electrical and Control Systems at Huisman. "Huisman currently focuses mainly on the expansion of the production, sales and engineering capacity. Bakker Sliedrecht aims to acquire more international projects, such as from Asian yards. Through our collaboration in China we can reinforce each other in realizing our ambitions".
Photo 1: BigLift's Happy Buccaneer, one of the first projects by Huisman and Bakker Sliedrecht
Photo 2: Huisman and Bakker Sliedrecht on a joint project
End of Press Release
-------------------------------------------------------------------------
About Huisman
Huisman is a globally operating company with extensive experience in the design and manufacturing of cranes, pipelay systems and drilling equipment for world's leading on- and offshore companies. The equipment, either being stand-alone to highly engineered and integrated systems is designed and manufactured under own management, from concept to installation. The operations are divided between the offices in The Netherlands, Brazil, China, Czech Republic, Singapore and the USA and the production facilities in The Netherlands, Czech Republic and China.
About Bakker Sliedrecht
For already many years Bakker Sliedrecht is a leading party in the maritime sector. As system integrator Bakker Sliedrecht has a large expertise in designing and executing servicing of electro-technical systems and installations on board of ships. Besides a large number of offshore and dredging vessels also many project were executed in other maritime sectors, such as research, merchant , marine and inland vessels and fishery. The large experience as well as the expert knowledge and the integral approach always enable the generation of innovative solutions for her principals. This knowledge in the field of drive- and control systems, automation and electro-technical installations also guarantees an excellent, efficient and continuous operation of the delivered electro-technical installations. Bakker Sliedrecht guarantees a very professional worldwide operating service, 24 hours a day, 7 days a week.