Huisman successfully delivers 600mt Pedestal Crane "MPI Resolution"
10 May 2011
On Tuesday 8 March 2011, Huisman, the Dutch-based specialist in lifting, drilling and subsea solutions, successfully completed the load testing of the new build 600mt Pedestal Crane onboard Wind Turbine Installation Vessel "MPI Resolution". The load test was the final step before the crane was handed over to the clients Centrica Renewable Energy Ltd and MPI Offshore Limited.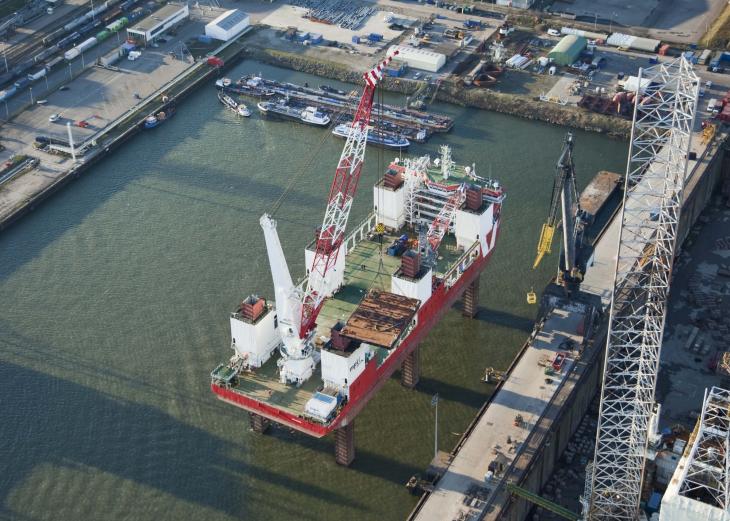 The crane was constructed, installed, commissioned and tested at the Huisman facility in Schiedam, The Netherlands with the final load test taking place at the Keppel Verolme yard in Rozenburg, The Netherlands. The fact that the handover took place within 15 months after signing of the first agreement was a major achievement of all parties involved.
The 600mt Pedestal Crane is custom-designed for the installation of offshore wind turbines and derives from Huisman's many years of experience in the design, fabrication and service of heavy lifting equipment. The state-of-the-art crane combines unique technical features, such as a full electric variable frequency drive system, a low overall construction weight and a small minimum operating radius. Furthermore all the major equipment, such as hoist winches, is installed inside the enclosed crane house. This offers a good protection for the harsh marine environment.
With the new crane the MPI Resolution is prepared to handle larger wind turbine components for long term vessel charterer Centrica. The upgraded vessel is scheduled to be deployed for turbine installation operations upon the 270MW Lincs wind farm project.
Huisman has scheduled to deliver a second 600mt Pedestal Crane for another client in the fourth quarter of this year.