Subsea 7 awards Huisman a contract for a 550mt Flex-lay system and a 400mt Offshore Mast Crane
15 December 2011
Huisman, the specialist in lifting, drilling and subsea solutions, has secured a new contract with Subsea 7 to supply and install a 550mt Flex-lay system and a 400mt Offshore Mast Crane onboard their newest vessel. Delivery of the equipment is scheduled for 2014, installation will take place at Huisman Schiedam, The Netherlands. The vessel will be built by the IHC Offshore & Marine Shipyard in Krimpen aan den IJssel, also in The Netherlands.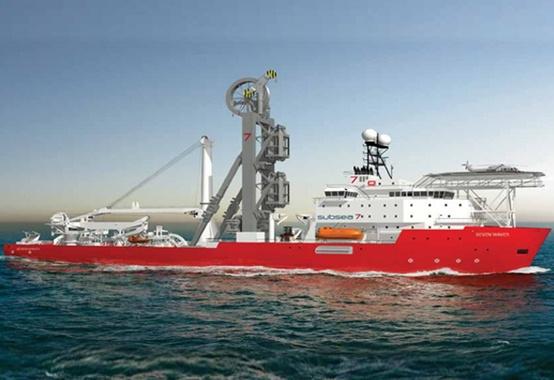 The 550mt Flex-lay system will be the highest capacity flex-lay system onboard a pipelay vessel and will be designed and built for the installation of flexible pipelines in 3000m water depth. The tower is tiltable to allow connection of flexible risers to rigid pipelines which are retrieved from the seabed. The system's tensioners are retractable to allow for safe and efficient A&R and PLET installation procedures. They have been designed according to the most stringent requirements and are equipped with a Squeeze Control System which allows for accurate control of squeeze loads, also at low values. This is important when handling umbilicals. Huisman previously designed and built pipelay systems for a number of Subsea 7 vessels. A 600mt S-lay system for the "Seven Borealis" is currently under construction
The 400mt deepwater crane (up to 3000m) is equipped with a deepwater lowering system and an active heave compensation system to counter-act the vessel's heaving motion when landing a load on the seabed. These features will make it an efficient tool for the installation of heavy loads required for deepwater subsea production systems. The Huisman Mast Cranes are used within the industry for over 30 years and have become a standard in the design and construction of heavy lift cranes. A 5,000 Offshore Mast Crane for the another Subsea 7 vessel, the "Seven Borealis" has recently been load-tested.