Huisman awarded contract for 500mt Yard Crane and 150mt Flexlay System by Technip
5 April 2012
Schiedam, 5 April 2012: Huisman, the worldwide specialist in lifting, drilling and subsea solutions, has secured new contracts with Technip, a world leader in project management, engineering and construction for the energy industry, for a 500mt Yard Crane and a 150mt Flexlay System. Both the crane and the pipelay system will be designed and constructed by the Huisman facilities in the Netherlands and the Czech Republic. Previously, Huisman delivered the installation equipment onboard Technip's flagship deepwater pipelay and subsea construction vessel, "Deep Blue".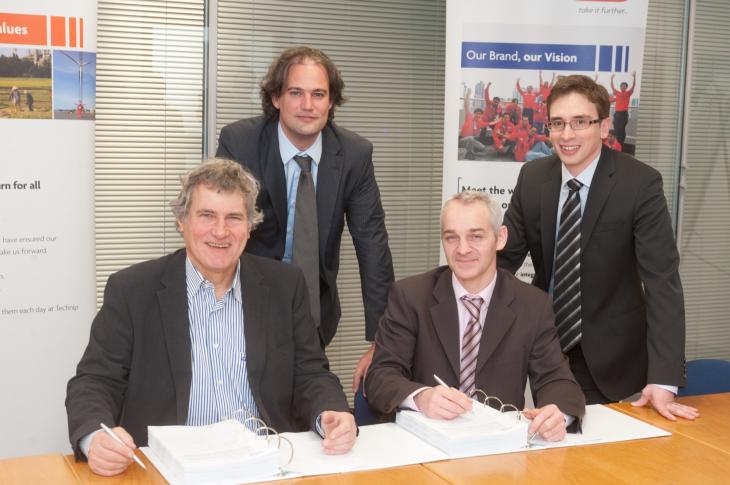 The 500mt Yard Crane is the third crane of this type built by Huisman, however the first to be used for onshore purposes. This state-of-the-art crane derives from Huisman's many years of experience in the design, fabrication and service of heavy lifting equipment. The full revolving crane combines unique technical features, such as a full electric variable frequency drive system, a low overall construction weight and a small minimum operating radius. Furthermore all the major equipment, such as the hoist winches, is installed inside the enclosed crane house. These technical features result in a low power consumption, lower operational costs and maximum operability. The crane will be installed, commissioned and tested at Technip's Flexi France facility in Le Trait, France, mid-2013.
The 150mt Flexlay System will be designed and built for the installation of flexible pipelines. The system can be separated into two modules, allowing for easy installation onboard. A definite first for a Flexlay System of this size is the two openable and retractable 75mt tensioners which allow for safe and efficient installation of large subsea infrastructure components such as umbilicals, risers and flowlines. The system's deepwater lowering function allows for installation in up to 3,000m water depth. Delivery of the 150mt Flexlay system is scheduled for the end of 2013.
Huisman currently has a number of cranes in production, varying from 300mt to 4,000mt, and a 5,000mt Offshore Mast Crane is currently being finalized. Pipelay systems currently under construction include Multi-lay Systems for the Aegir and a new build vessel for Ezra, a Flexlay System for the newest Subsea 7 vessel and the S-lay System for the Seven Borealis.