High five for Huisman Schiedam!
31 January 2014
31 January 2014: Huisman, the worldwide specialist in lifting, drilling and subsea solutions, currently has five new built pipelay systems out on the quayside of their production facility in Schiedam, The Netherlands. These "high five" showcase the latest in pipelay technology and underline the added value of the new production hall for Huisman Schiedam. This 66m high production hall offers the largest indoor lifting capacity in Europe (1,200mt), allowing for the simultaneous indoor assembly, including testing and commissioning, of several products and systems. This allows for fast installation, commissioning and testing onboard.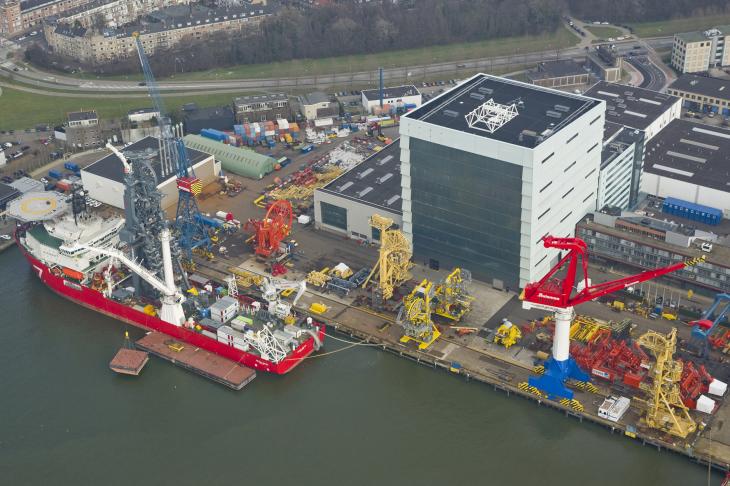 The pipelay systems currently at the Huisman Schiedam quayside include a 800mt Multi-lay System (MLS) for Ezra's 'Lewek Constellation', a 275mt Vertical-lay System for Ceona's 'Polar Onyx', a 150mt Vertical-lay System for (VARD) Ocean Installer's 'Normand Vision' and a portable 150mt Vertical-lay System for Technip. An additional 550mt Tiltable-lay System (TLS) for Subsea 7 has already been installed onboard the 'Seven Waves' which is currently situated at the Huisman Schiedam quayside and is planned to depart for seatrials in February 2014. The 150mt 'Ocean Installer' VLS and the 150mt Technip VLS will be transported to other yards, respectively Sovik in Norway and Le Trait in France, for installation on the designated vessels. The 275mt VLS for Ceona's Polar Onyx and the 800mt MLS for Ezra's Lewek Constellation will both be installed at Huisman Schiedam respectively in March and July of this year.
In 2012 Huisman Schiedam completed the construction of the new 66m high, 57.2m wide and 58.7m long production hall. The establishment of the new hall was part of a € 100 million global production expansion plan. Since the halls' official opening in October 2012 it enables Huisman to manufacture, test and commission most products indoors, making production far less dependent of weather conditions and allowing for fast installation, commissioning and testing onboard later on. Next to the five systems on the quayside, another 10 pipelay systems for various clients are currently under construction: 1 x 570mt MLS, 3 x 650 TLS, 3 x 550mt TLS, 2 x 340mt TLS and 1 x 150mt TLS.