Subsea 7 Inaugurates Seven Seas at Huisman
26 April 2008
Subsea 7, one of the world's leading subsea engineering and construction companies, announces the official inauguration of its new state-of-the-art deepwater flexlay vessel the 'Seven Seas', at the Huisman premises in Schiedam today. The vessel naming ceremony was performed by Mrs Anabela Fonseca, Vice President of Sonangol, Angola's largest oil producing company.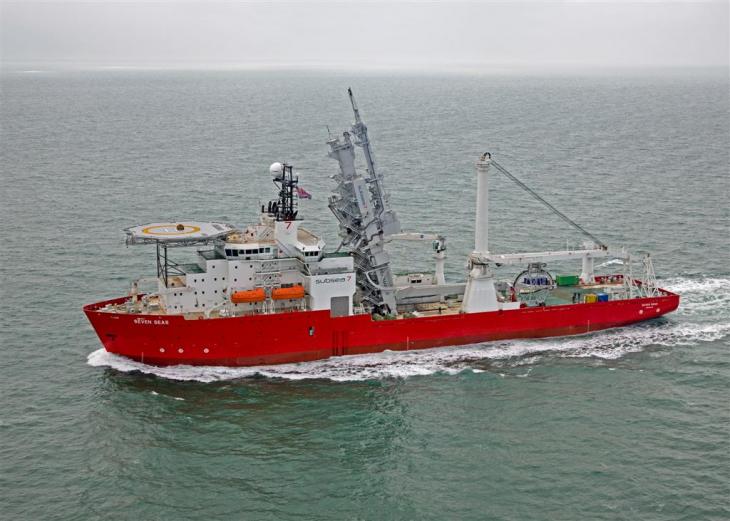 The Seven Seas is designed and constructed to perform highly specialised subsea pipe laying, construction and engineering work for the deepwater global offshore oil and gas industry. Construction of the vessel took place at the Merwede Shipyard in Hardinxveld- Giessendam, also in the Netherlands. The flexible pipelay equipment and 400t deepwater crane were designed and manufactured by Huisman. The vessel combines state-of-the-art technology with industry leading safety standards and is capable of operating in water depths of up to 3,000m.
Mel Fitzgerald, Chief Executive Officer at Subsea 7 said: "This project has been achieved due to successful alignment of the interests of Subsea 7 and its key shipbuilding and pipelay suppliers. The unique, integrated agreement between all three parties has resulted in the design, construction, commissioning and on-schedule delivery of the vessel in just over 24 months, which is an excellent team effort." Seven Seas is the fourth in a series of seven new vessels to be added to the Subsea 7 fleet over a 24 month period and represents an investment of some $200m, from a total investment of over $1bn in new assets and equipment between 2006 - 2008.