Huisman holds steel cutting ceremony for COOEC's 325mt VLS
21 December 2015
Huisman, the worldwide specialist in lifting, drilling and subsea solutions, held a steel cutting ceremony together with COOEC, a subsidiary of CNOOC, for their new pipelay system at the Huisman facility in China. It is a 325mt Vertical Lay System for flexible pipe. It will be the first Vertical Lay System ever operated and owned by a Chinese company. The tower will be installed onboard of the offshore construction vessel HYSY286, and together with the earlier supplied 400mt deep water mast crane of Huisman, this vessel will become a very efficient and capable deep water construction vessel.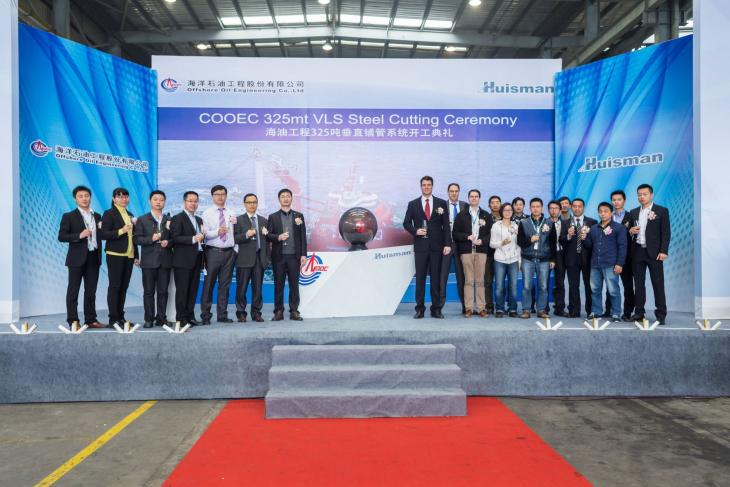 Pim Overes, Managing Director at Huisman China: "This vessel will become the most advanced deep water construction and pipelay vessel in China. This shows the ambition of CNOOC, and we are very fortunate to be selected to participate in achieving this together with the project team of COOEC. An ambition we would like to support now and in the future, as we feel that together with our design capacities and quality in manufacturing we can complement each-other in achieving this ambition".
Mr. Ding Donghua, representative of CNOOC: "CNOOC actively practices the strategy of building a strong ocean country, improving offshore oil and gas resource development. We have had some breakthroughs in equipment and technology: The 325mt VLS is the first step to pipe flex-lay in deep sea, which is a significant milestone in realisation of the strategy of CNOOC Secondary Leap. CNOOC and Huisman have a very good cooperation in the field of marine engineering equipment. Huisman always provides us with reliable equipment and exquisite technical service. We hope and trust that Huisman, as usual, carries forward the innovative spirit and the pursuit of excellence."
Huisman VLS system has its special advantages on retractable and opening tensioner technology that allows the tensioner to be retracted so that the firing line is cleared for other operations such as A&R procedures.