Huisman's first 'Hybrid Boom Crane' nears completion
15 April 2015
In April 2015, Huisman, the worldwide specialist in lifting, drilling and subsea solutions, started with the final factory acceptance testing of its first 900mt Rope Luffing Knuckle Boom Crane, now called the 'Hybrid Boom Crane', at the quayside of the Huisman China Production facility in Zhangzhou. The crane was fully assembled in the main assembly hall and upended by Huisman's 2,400mt Quayside Crane. In the coming weeks, the crane will undergo an intensive factory acceptance testing program, after which it will be shipped to Hyundai Heavy Industries in Ulsan, South Korea. The crane will then be installed, commissioned and tested on board Subsea 7's Seven Arctic.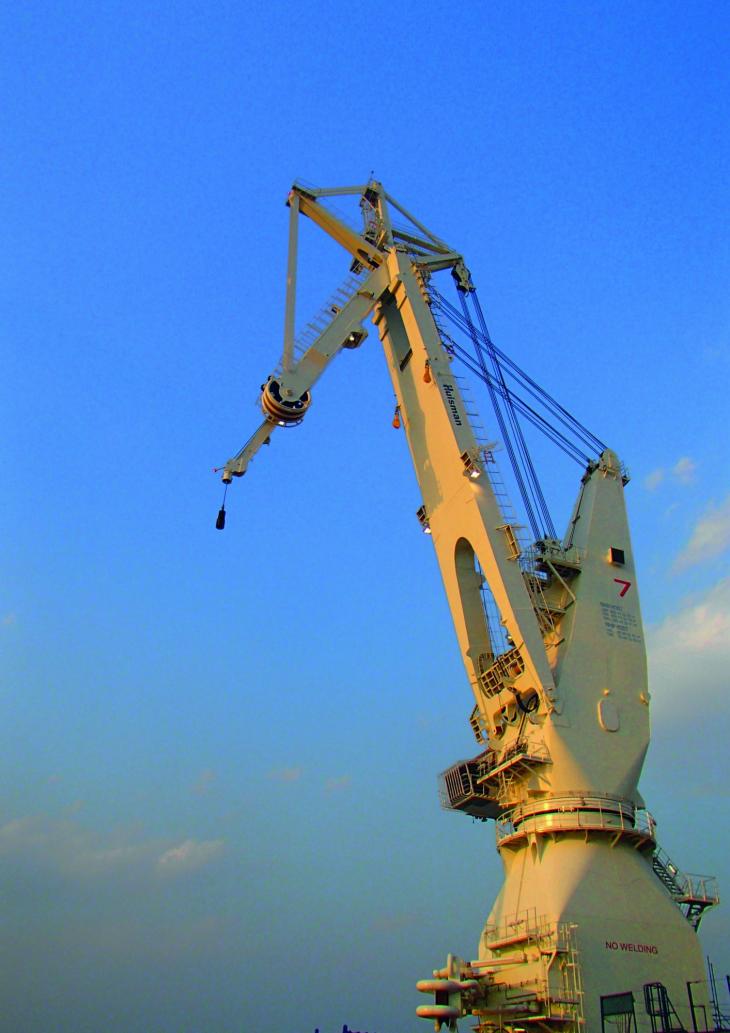 Huisman decided to change the name of this new hybrid type crane from 'Rope Luffing Knuckle Boom Crane' to 'Hybrid Boom Crane' to better reflect the unique features of the crane.
The hybrid boom design combines the advantages of regular pedestal cranes and traditional knuckle boom cranes. Due to the innovative crane design the main and knuckle boom have a low construction weight, therefore the crane practically matches the excellent load curves of a pedestal crane with a fixed boom. With the knuckle boom in an extended position the crane offers a unique high lifting height with full lifting capacity, which is normally only available with a fixed boom. On top of this, the hybrid boom design secures the key advantages of traditional knuckle boom cranes, such as a low suspension point and reduction of load swing. These advantages have made the knuckle boom crane one of the most popular tools for offshore and subsea construction activities.
The benefits of the Hybrid Boom Crane extend beyond the boom design. The crane is fully electrically driven. This reliable and environmentally friendly drive system provides precise control over crane and load movements, with low noise levels, reduced maintenance and no risk of oil spills. A real-time heave compensation and shock absorbing system further increases the operational weather window for safe and accurate installation of subsea infrastructure components.
Huisman will demonstrate the unique features of the Hybrid Boom Crane with a fully operational scale model, in their booth at the 20th North Sea Offshore Crane & Lifting Conference on 21-23 April 2015 in Stavanger, Norway, and on 4-7 May during the 2015 Offshore Technology Conference (OTC 2015) in Houston, Texas, at their booth 2327.