Huisman Rope Luffing Knuckleboom Crane wins Innovation of the Year Award
19 February 2015
On Wednesday 18 February 2015, the Huisman Rope Luffing Knuckle Boom Crane has been awarded the Innovation of the Year award during the Annual Offshore Support Journal Awards 2015. The new hybrid crane is recognized to provide a significant innovation on the design, build and operational aspects of offshore support vessels.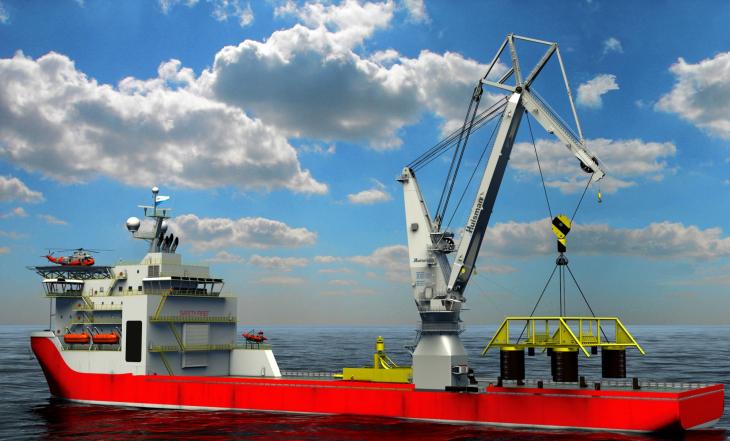 The Rope Luffing Knuckle Boom Crane provides an optimum solution for the growing operational challenges of subsea construction. This crane design maintains the advantage of the knuckle boom functionality, providing a low suspension point which is essential for offshore construction activities, without the disadvantages of conventional knuckle boom cranes, such as the heavy boom that affects the crane load curves and impacts ship stability. The crane is designed to execute projects in deep and ultra-deep waters and is able to handle large and heavy loads in hostile environmental conditions.
Joop Roodenburg, CEO of Huisman: "We are very honored with this award since it is a recognition by the offshore industry of our innovative hybrid boom concept. We want to express our appreciation to our clients for their support in this innovation which led to the order award for the first Rope Luffing Knuckle Boom Crane almost two years ago. We are confident that this crane will contribute to optimize the performance of offshore support vessels which is key in today's market".
At this moment Huisman is building five cranes with this particular design