Huisman wins crane order for Maersk's subsea support vessels
26 January 2015
In December 2014, Huisman, the worldwide specialist in lifting, drilling and subsea solutions, secured a contract from COSCO (Dalian) Shipyard for the delivery of four customized 400mt Rope Luffing Knuckle Boom Cranes and two 100mt Knuckle Boom Cranes onboard four new subsea support vessels (SSVs) for Maersk Supply Service. The first vessels, Marin Teknikk design MT 6027, are scheduled for delivery in Q4 2016. In addition to Huisman's long track record as a reliable and innovative subsea crane supplier, Maersk Supply Service selected Huisman due to the benefits offered by this new crane type, and the partnership that developed between the companies which led to a customized crane design.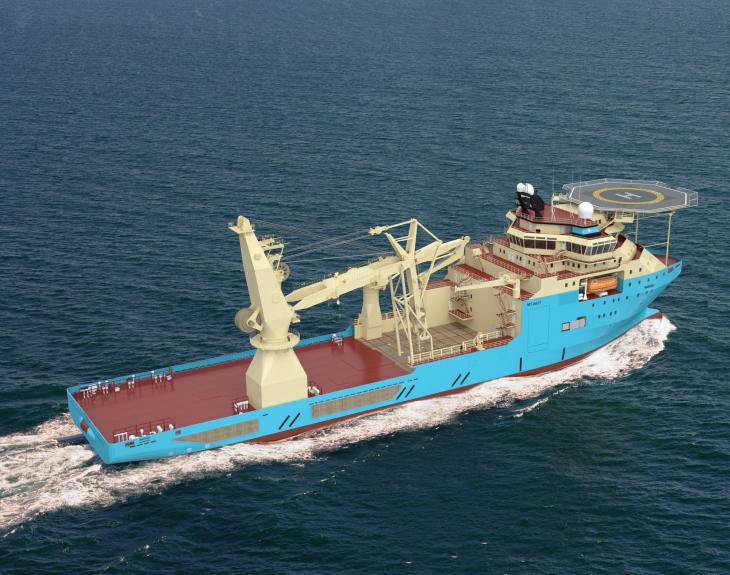 Huisman CEO Joop Roodenburg says: 'We truly cherish this new collaboration as we value the professional input of all parties involved. We trust that the pleasant and constructive cooperation will lead to a long term partnership between our companies'.
With this order, the new Huisman patented Rope Luffing Knuckle Boom Crane establishes a strong foothold in the subsea crane market. This crane type is especially designed to provide reliable solutions for subsea installations in increasingly deeper water and offshore construction in severe weather conditions. The active heave compensated (AHC) cranes provide unparalleled performance by combining the benefits of a normal Rope Luffing Crane and a traditional Knuckle Boom Crane. As such it offers a low overall construction weight, high lifting height and large capacity at outreach.
Huisman's innovative Rope Luffing Knuckle Boom design resulted in a much lighter boom, enabling superior load curves. This allows the crane operator to pick up large loads at larger radii, optimizing the capacity at outreach and increasing the size and number of modules that can be installed from the SSV's own deck, which is ideal for projects at remote locations. The main hoisting system is comprised of a traction and storage winch system and a separate heave compensation system. This means both lifting/lowering and heave compensation can be performed simultaneously with no performance interdependency, resulting in better overall system performance and increased safety. The below deck heave compensation system includes a passive component with an integrated gas spring that functions as a shock absorber while, for instance, lowering through the splash zone.
The contract between COSCO (Dalian) Shipyard and Huisman contains an optional scope for two 400mt Rope Luffing Knuckle Boom Cranes for two additional vessels. Huisman's sister company SMST will deliver the two 100mt Knuckle Boom Cranes with options for four more cranes. The components for the four Rope Luffing Knuckle Boom Cranes will be built at the Huisman facilities in China, the Netherlands as well as in Czech Republic. They will be transported to the COSCO Shipyard in Dalian, China for final installation, commissioning and testing onboard. With this contract, Maersk Supply Service, COSCO, and Huisman have made a first step in a long term relationship.