Huisman celebrates 10th anniversary of its Chinese production facility
18 April 2017
On Monday 17 April, Huisman, the worldwide specialist in lifting, drilling and subsea solutions, celebrated the 10th anniversary of its Chinese production facility: Huisman China. Since its opening on 17 April 2007, Huisman China delivers a significant contribution to the overall Huisman engineering and production capacity. The delivery of the 100th crane in 2015 signifies the added value of the Chinese Huisman production facility for the Huisman Group and its clients in the region.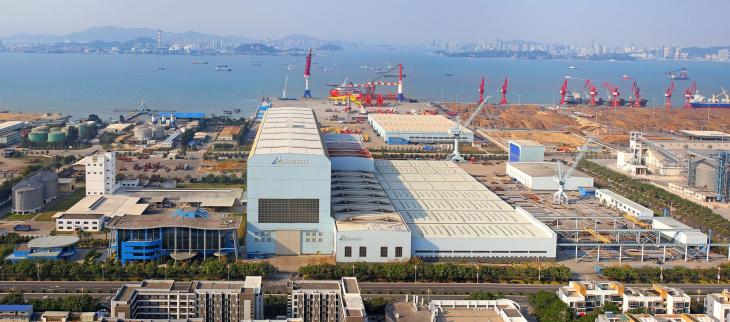 Huisman CEO Joop Roodenburg said: "Huisman China is currently one of our most important assets because of its available facilities and capabilities. The fact that we additionally guarantee the corporate Huisman quality standards for our entire range of products is extremely important, especially in the current market".
Huisman China, a 100% subsidiary of Huisman, is located in the Fujian Province (Xiamen area) in China. The facility has a 380m long quayside, a Huisman design 2,400mt travelling quayside crane which, together with the strong quay structure and the direct deep water access, makes Huisman China well suited for the installation of cranes, pipelay equipment and drilling systems onboard large (offshore) vessels. Huisman China is certified according ISO 9001, OHSAS 18001 and ISO 14001.
Over the years, Huisman China has manufactured a fair share of the Huisman products including the two largest Offshore Mast Cranes ever built by Huisman, the first ever deepwater Flex-lay System, Well Intervention Towers and the world's largest Tub Mounted Cranes (10,000mt) which are currently under construction for Heerema's new built vessel 'Sleipnir'.