Bully I drill tower departs from Huisman to Keppel Yard for installation
12 November 2009
Early Thursday morning 12 November, the drill tower for the first Shell/Frontier Bully drill ship was shipped from the Huisman quay in Schiedam to the Keppel Shipyard in Singapore, where it is expected to arrive mid December. Huisman, the Dutch–based specialist in heavy lifting, pipelay and drilling equipment, designed and manufactured the drilling tower and related pipe, riser and BOP handling equipment. Delivery of the equipment is in line with the delivery schedule of the new build Bully 1 vessel at Keppel Shipyard. The Huisman delivery of similar equipment for Bully 2 is planned in 5 months time.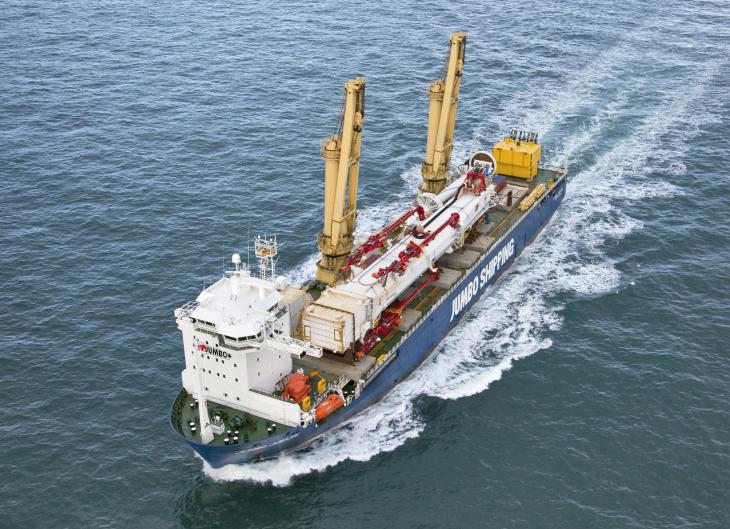 All equipment has been manufactured at the Huisman production facility in The Netherlands. The drill tower has been upended on the quay, fully assembled and tested prior to transportation. Also the topdrive and service loops were installed. The drill tower will be installed onboard the vessel with a single lift. Subsequent commissioning of the complete system is expected to take less than 3 months. This results in a considerable efficiency improvement and therefore installation cost reduction.
Apart from the drilling tower, Huisman also delivered all equipment for the handling of drill pipe, casings, marine risers, subsea and surface BOPs and X-mas trees, the riser tensioning system and both deck cranes. With the equipment come all power systems as well as an integrated control system which also controls 3rd party equipment. This equipment has previously been shipped to Keppel Shipyard in Singapore.
The Bully range drill ships are designed to offer a lower cost and more flexible alternative for drilling in ultradeep and Arctic conditions. The selection of Huisman's compact box type drilling tower instead of a conventional derrick allows for a significantly smaller sized vessel compared to other deepwater drill ships of similar capacity. The box type drill tower design also improves safety.