Huisman to provide composite casings for Coda Terminal pilot well
24 October 2022
Huisman has been awarded a contract by Carbfix for the delivery and installation of Huisman Composite Tubulars. The pipe system will be installed in the pilot well of the Coda Terminal, a large carbon transport and storage hub in Iceland.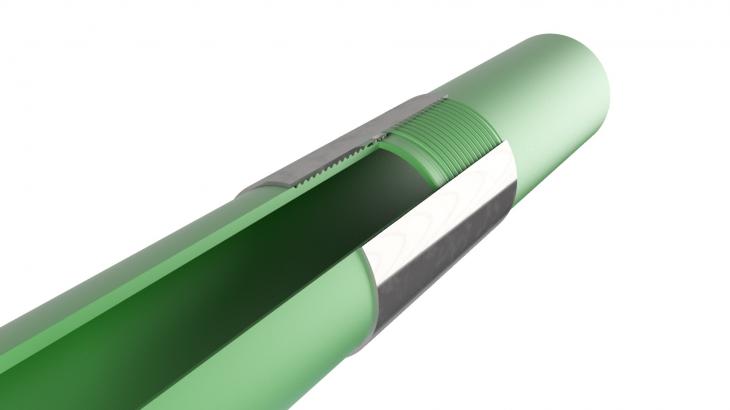 Huisman has developed in-house a fit-for-purpose downhole composite pipe system, specifically for well construction purposes, to provide a smooth, full flush, flow path for production and injection of fluids. By shifting from conventional steel to composite materials, Huisman Composite Tubulars tackle corrosion problems at the core and reduces scaling tendency to a minimum, providing a durable and efficient solution.
After installation and cementation of the 9 5/8" composite casing, an 8 ½" open hole section will be drilled to the target depth. This means that the bit and drill pipe will be run through the inside of the composite casing, a unique procedure made possible by the strong, fully composite pipe body.
Carbfix, based in Kópavogur, Iceland, has developed a process that turns CO2 into stone. CO2 is dissolved in seawater before it is pumped into a basaltic bedrock formation through a network of injections wells. Once in the subsurface, the injected CO2 reacts with the rock, forming stable carbonate minerals, thus providing for safe, long-term storage.
The Coda Terminal pilot well will be located near Straumsvík. At full scale, the terminal will have the capacity to inject 3 million tonnes of CO2 per year for permanent mineral storage.
David Roodenburg, CEO of Huisman: "We are grateful for this order and excited to support Carbfix in their development of this new green tech industry. This carbon storage application provides a perfect example of the beneficial capabilities of Huisman Composite Tubulars. We look forward to a successful pilot and further roll out of the Coda Terminal."
This year, Huisman received a contribution from the National Growth Fund of the Dutch Government for further expansion of Huisman Composite Tubulars.
Features & benefits of Huisman Composite Tubulars:
Huisman Composite Tubulars are naturally inert to downhole corrosion
Maximum production is maintained by the smooth low friction surface, further mitigating scale build up and reducing losses
Huisman Composite Tubulars proprietary slender connections assure maximum internal diameter availability, providing unrivalled pump efficiency
Designed and tested to last for up to 30 years in downhole applications
Made of viscously strong & robust non-metallic material that's ready for conventional equipment and procedures
80% lighter than steel, enabling safer and rigless running operations
Transparent for electromagnetic logging