Huisman launches digital portal myHuisman© for equipment owners
3 May 2023
Huisman has launched myHuisman©, an online client portal which offers equipment owners three digital services; a parts shop, a knowledge base including a smart ticketing system, and a technical library to make monitoring, maintenance, and service of Huisman equipment more efficient and predictable.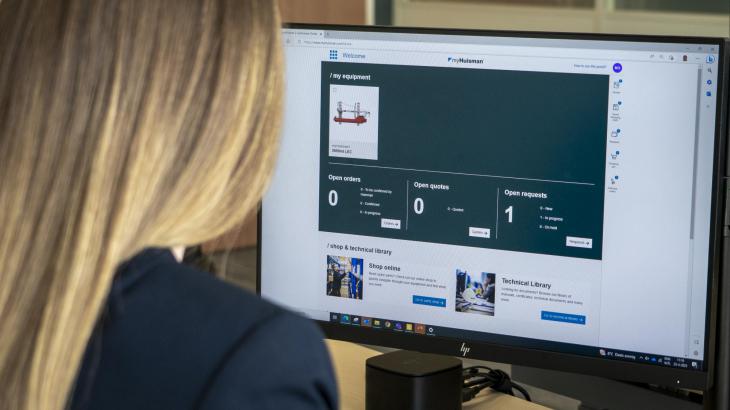 Huisman has developed myHuisman© in co-creation with its clients Fred. Olsen, Van Oord, amongst others. By involving these clients at an early stage and running a pilot, Huisman was able to deliver a portal that matched their needs.
The parts shop in myHuisman© allows equipment owners to browse their equipment. It offers a practical breakdown structure in which all available parts can be ordered.
The knowledge base of myHuisman© includes a ticket system which allows equipment owners to prioritise requests for Huisman. This way, they are able to indicate what is the most urgent demand.
With myHuisman©, equipment owners have a digital platform to build, share and secure knowledge amongst teams, often consisting of various disciplines such as buyers, superintendents, asset managers, and the operational crew on board, that are involved in the operation and maintenance of equipment.
The technical library contains all equipment documentation including drawings, manuals, certifications, and service reports.
Huisman will continue to expand the features of myHuisman© in the near future with, for example, a dashboard that monitors the state of the equipment, so owners can see what needs replacement and schedule ahead.
David Roodenburg, CEO of Huisman says: "At Huisman, we apply our spirit of innovation not only to the development of our products but also to the continual improvement of our services. The newly launched myHuisman© portal offers a suite of services suited to our clients. Whether they want us to take full care of their equipment, or just give a little support, our new service portal offers them easy access to everything they need – all in one place. Through the digital, data-driven services of myHuisman©, we will offer Huisman equipment owners increased uptime, optimal efficiency and low cost of ownership over the total lifecycle of their equipment."
Benefits of myHuisman©:
Central location for all service needs
Quick and efficient parts ordering
Documents and data centrally stored
Overview of requests, orders, enquiries
Readily available remote and technical support