Huisman to equip Cadeler F-class vessel with Leg Encircling Crane
9 June 2022
Huisman has announced a contract award from COSCO Shipping (Qidong) Offshore Co., Ltd. for the design and construction of a Leg Encircling Crane (LEC). This crane will be installed on the new build F-class jack-up vessel of Cadeler, a key supplier within the offshore wind industry for installation services, operations and maintenance works.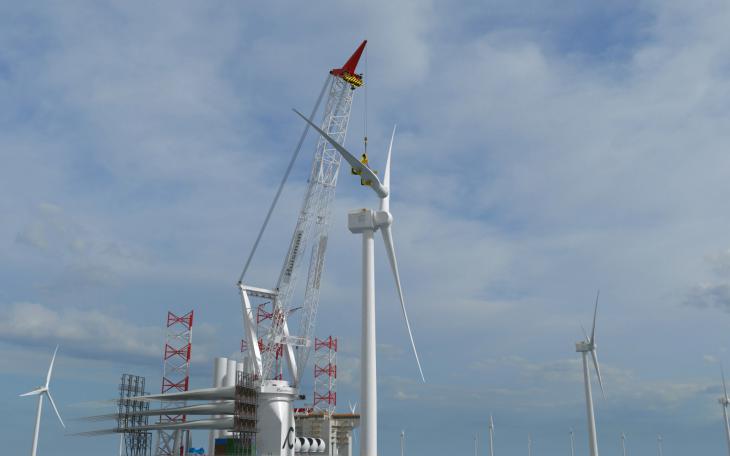 The contract award follows last year's contracts for two identical 2,600mt Leg Encircling Cranes for Cadeler's X-class vessels.
With this crane, Cadeler will be capable of installing foundations and wind turbines for next generation offshore wind projects worldwide. The F-class vessel features a unique design, allowing the vessel to convert from being a foundation installation unit to a wind turbine generator installation vessel within a short period of time.
Huisman has designed its LECs to meet the requirements of the continually developing offshore renewables sector. The cranes are lightweight yet robust, have high positioning accuracy and are highly energy efficient, contributing to a reduced emissions footprint during the installation of increasingly large turbines.
The scope of work for Huisman consists of the design, engineering and construction of the LEC at its production facility in Zhangzhou, China. The cranes will be commissioned in 2025 at COSCO's shipyard in Qidong, China, where the F-class vessel will be built.
David Roodenburg, CEO of Huisman: "We are thankful and proud that, with this third order, we are able to make a significant contribution to Cadeler's fleet expansion. We look forward to delivering the cranes in the coming years and, as a committed partner helping Cadeler to boost installed offshore wind capacity around the world."
Features & benefits of the Huisman Leg Encircling Crane
A fully electrically driven system, resulting in high positioning accuracy, reduced maintenance and high reliability.
The optimised energy grid reduces the energy consumption of the crane significantly.
In-house developed slew bearing system, providing highly reliable and accurate positioning of the crane.
The boom's unique design makes it stiff and lighter in weight.
Stiff construction of the boom leading to reduced motion at the crane tip.
Small tail swing allowing for optimised utilisation of free deck space.