Offshore Wind
Huisman has an extensive product portfolio for the offshore wind market. The products range from spreaders, piling hammers and pile handling tools up to large capacity cranes. New technology or custom made products can be developed by our innovative engineering department on request.
Modular Motion Compensated Cable Lay System
The Modular Motion Compensated Cable Lay System is our latest development for the future that allows cable lay operators to work with a significantly larger weather window while reducing the risk on cable damage.
Read more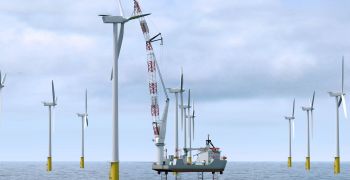 Wind Turbine Maintenance
Huisman's Foldable Offshore Crane is designed specifically for Operations & Maintenance (O&M)works on offshore wind turbines. It allows operators to reach nacelles at a height of over 150m above the WTGs transition piece. The major advantage of this crane is that due to its foldable boom, the crane can easily be integrated in small - and cost efficient - jack-up vessels. Therefore reducing cost for offshore maintenance. In addition, the geometry of the boom allows for a very low construction weight.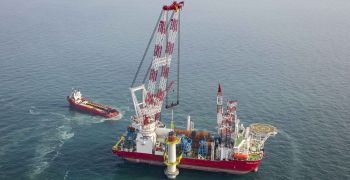 Wind Turbine Installation Cranes
Building on the successful operation of the existing Huisman cranes for the installation of Offshore Wind Turbines, Huisman has introduced a range of cranes tailored to Wind Turbine Installation. These cranes are a result of many years of design and operational experience and based on the company's drive to design and deliver new solutions that add value to the market's existing technologies.
Read more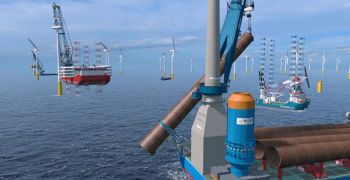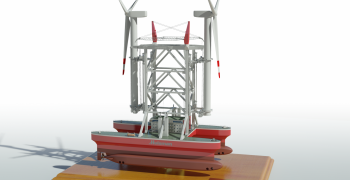 Wind Turbine Shuttle
To improve the efficiency of offshore wind turbine installation, we developed the Wind Turbine Shuttle: a dynamically positioned, fast sailing (14 knots) SWATH - Small Water plane Area Twin Hull - type installation vessel which can carry and install two wind turbines in one piece.
Read more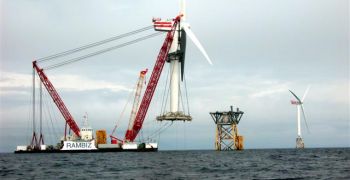 Sheerleg Cranes
Besides our standard portfolio, we envisage to develop and build mission equipment for our client's special needs. An example is the Rambiz, originally built for a bridge construction project, is now frequently used for the installation of gravity based structures and complete wind turbines in a single lift. A sequal with 4,000mt lifting capacity is currently on order.
Read more